The fight for English in Puerto Rico
By William Marquez
BBC Mundo, Washington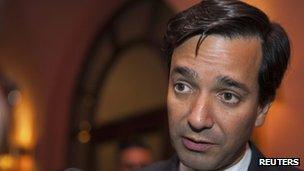 The governor of Puerto Rico, Luis Fortuno, wants Puerto Ricans to speak English as well as they do Spanish.
To meet his goal of Puerto Ricans becoming bilingual by 2022, Mr Fortuno plans to install an intensive bilingual curriculum in public schools, already being tested in a small groups at early grade levels.
He says it will enable the island to become a more competitive, growing and globalised economy.
But some of his critics accuse him of trying to impose a US-centric political agenda, especially in an election year that will see a referendum on the island's relationship with the country.
The issue of language has always been controversial in Puerto Rico, as much as its political status - a commonwealth - described as a free, unincorporated territory of the US.
Unofficial official language
Puerto Ricans are represented in Congress by a resident commissioner. They have US citizenship, but those who reside on the island cannot vote in federal elections. They also do not pay federal income taxes.
Most do not speak a word of English although - along with Spanish - it is the official language of the island.
Mr Fortuno wants to change this, with all subjects in public schools to be taught in English as well as Spanish, with the exception of history.
He insists that it is an economic necessity for Puerto Rico that promises opportunities and success for future generations in an increasingly competitive and globalised world.
The project will first launch in 31 public schools at the first grade level, Grisel Munoz, assistant secretary for academic affairs in Puerto Rico, told BBC News.
The idea is to add a grade level each successive year, while expanding the system to more schools.
"At this rate, and as we continue to increase, in 10 years we could have all the schools under the system," Ms Munoz says.
"The idea is that in Puerto Rico, everyone will have the ability to speak a second language."
But that second language would be English, and for some, given the island's relationship with the US, that creates suspicions about the intentions of the governor's programme.
Mr Fortuno, a Republican, openly advocates for Puerto Rico to become the 51st state of the US. Opposition leaders have denounced his "English immersion" programme as a prelude to full union with the country.
"It is an ideological, rather than an educational, project," says Juan Manuel Mercado, candidate to be resident commissioner in Washington for the Partido Independentista Puertorriqueno or PIP.
"He is just shouting out to the stands, considering we're in an election year and the governor has to show himself as a die-hard pro-American candidate," Mr Mercado adds.
This November, the residents of the island will also vote in a referendum on two important concepts: whether they are satisfied with the existing relationship with the US, and to choose a preferred status for their country - statehood, independence or commonwealth.
Juan Manuel Mercado says the governor will use the pretext of learning English to improve economic conditions to present a union with the US as the only route for the country to follow.
"Years of American presence and the injection of fear by the United States and those who represent them in Puerto Rico, have resulted in the demonisation of all that is not American, and of any other possibilities that could exist outside the link with the US," Mr Mercado says.
The opposition politician says that Puerto Ricans reject any kind of acculturation because they are rooted in their identity as Hispanics and not as Americans.
"We express our 'Puerto-Ricaness' every day through our language," he says.
However, Grisel Munoz denies that the motive is political. "I am a teacher, I want my students to be successful, to contribute to the economy," she says.
"If I do not prepare the type of students that my country and the world needs, we will not get out of the economic problems we now have."
Opposition politicians and some in the academic sector are not opposed to the teaching of English in principle, but they insist it should only be treated as a foreign language.
"In this country, most people do not speak English. It's false to assume that the second language is English", says Yolanda Izquierdo, acting director of the Department of Hispanic Studies at the University of Puerto Rico.
"It should be an optional subject. The fact they want to impose it on all public schools is a burden that will affect the vernacular."
But Ms Munoz says they already have seen positive results from a set of private schools in Puerto Rico that have adopted a similar bilingual programme for years.
"It's wonderful to see how these children love their country and how they can switch from one language to another and they are still Puerto Ricans."