Body parts suspect Luka Magnotta returns to Canada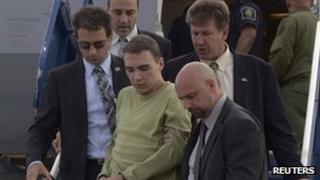 A Canadian porn actor suspected of murdering and dismembering his lover has arrived back in Canada after being extradited from Germany.
Luka Magnotta, 29, has been held for the murder of Jun Lin, a Chinese university student whose body parts were sent through the post.
The Chinese authorities have urged Canada to "to do justice to the victim".
Mr Magnotta is wanted for first-degree murder and defiling a corpse.
He is also suspected of threatening the prime minister and using the postal system to send "obscene, indecent, immoral or scurrilous" material.
He was arrested in Berlin on 4 June after an international manhunt.
Police believe Magnotta used an ice pick to stab Jun Lin, a student at Montreal's Concordia University, between 24 and 25 May. A film thought to show his murder was posted online.
Severed body parts were sent to political parties in Ottawa, and to two Vancouver schools. A headless torso was found in Montreal.
The victim's head is still missing.
Speaking in Beijing, Chinese foreign ministry spokesman Hong Lei also said he hoped the wishes of the victim's family would be taken into account.
The family of Jun Lin travelled to Montreal earlier this month to meet police, university staff and consular officials.
In a statement at the time, they said: "It is our wish to take this opportunity to turn a devastating situation into something positive that brings the goodness and peace back to our society."
'Swift and decisive'
Canadian Justice Minister Rob Nicholson confirmed Mr Magnotta was brought home by Canadian military transport.
In a statement, Mr Nicholson said the suspect was in the custody of Montreal police as he thanked the German government "for their swift and decisive action in this matter".
"We're extremely happy with the result today," Montreal police commander Ian Lafreniere said.
"This is not the end of the investigation. We're missing an important part of the investigation, which is the head of the body."
The suspect is to appear in court on Tuesday, Mr Lafreniere said. A lawyer is likely to be assigned to him then, the Quebec prosecutors' office told the Associated Press news agency.
Montreal investigators said on Friday they had obtained a longer version of a video posted on the internet which appears to show the murder.
Mr Magnotta did not oppose his extradition, according to German officials.
Police detained him in an internet cafe in Berlin after an employee recognised his face from a newspaper.
Before his arrest, Interpol had put Mr Magnotta on its wanted list.
French police said Mr Magnotta, who had worked as a bisexual porn actor and model, initially flew from Montreal to Paris.