Canada judge strikes down assisted suicide ban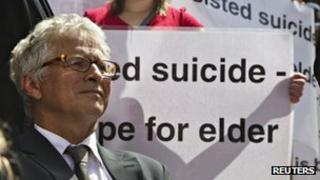 British Columbia's Supreme Court has struck down a portion of Canada's criminal code that bans physician-assisted suicide.
Justice Lynn Smith ruled that preventing doctors from helping critically-ill patients to commit suicide was unconstitutional.
She suspended her ruling for one year for new legislation to be drafted.
The ruling also gave permission for Gloria Taylor, one of five plaintiffs, to seek doctor-assisted suicide.
Under the ruling, if Ms Taylor, who has amyotrophic lateral sclerosis (ALS) or Lou Gehrig's disease, must do so within the year if she chooses.
In her 395-page ruling Ms Smith argued that suicide itself was not illegal, and therefore the ban denied the physically disabled the same rights as people who could take their own lives, breaking Section 15 of the Canadian Charter of Rights and Freedoms.
'Watershed decision'
A spokeswoman for the British Columbia (BC) Civil Liberties Association told reporters the ruling was a "watershed decision".
She also read a statement from Ms Taylor, who said she was "deeply grateful to have the comfort of knowing that I'll have a choice at the end of my life".
"This decision allows me to approach my death in the same way I have tried to live my life - with dignity, independence, and grace."
Government officials had argued during the court hearing that assisted suicide would run counter to basic societal values and the will of parliament.
Will Johnson, chair of the Euthanasia Prevention Coalition of BC, called the ruling a "radical decision" and said it disregarded evidence of harm in places where assisted suicide was legal.
"We are extremely concerned about the situation of elder abuse which is a major issue in Canada," Mr Johnston told CBC News.