John Edwards corruption charges dropped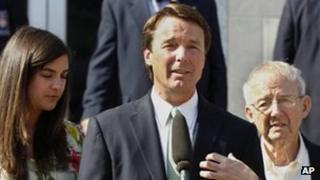 US prosecutors have dropped the five remaining campaign finance fraud charges against former Senator John Edwards, following a mistrial.
The two-time presidential candidate was declared not guilty of one charge, but the jury deadlocked on the other five.
Mr Edwards, 58, denied using donor funds to hide his mistress's pregnancy during his 2008 run for the presidency.
In a statement, the US justice department said it would not seek to retry the ex-North Carolina senator.
He could have faced up to 30 years in jail and $1.5m (£945,000) in fines if convicted of all charges.
In a statement, Assistant Attorney General Lanny Breuer said that his department knew the Edwards case would be challenging, but that it was their duty "to bring hard cases".
"Last month, the government put forward its best case against Mr Edwards, and I am proud of the skilled and professional way in which our prosecutors... conducted this trial," Mr Breuer said.
Lawyers for Mr Edwards responded in a statement they were pleased with the government's decision, and that a second trial would have had the same outcome.
"We are very glad that, after living under this cloud for over three years, John and his family can have their lives back and enjoy the peace they deserve," they said.
During the trial, prosecutors attempted to prove Mr Edwards knew about money used to cover up his affair with campaign videographer Rielle Hunter, and that he knew he was violating the law.
The 12-member jury in Greensboro, North Carolina, declared him not guilty on count three, which related to illegal campaign funds from a wealthy donor, Rachel "Bunny" Mellon. They had deliberated for about nine days.