Montreal teacher shows class Jun Lin 'murder video'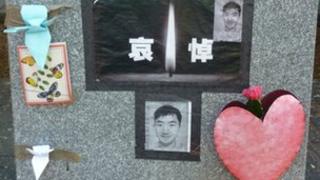 A Montreal teacher has been suspended after showing pupils a video said to show the murder of a Chinese student.
The online video appears to show the stabbing and dismembering of a man. Police believe it shows suspect Luka Magnotta, killing Jun Lin, his lover.
School officials condemned the teacher's actions and were treating the incident "very seriously".
Mr Magnotta, suspected of sending body parts by post, was arrested in Berlin on 4 June after a global manhunt.
He is currently awaiting extradition to Canada.
Dubbed "psycho killer" by Canadian media, he is accused of sending severed hands and feet to Canadian politicians and two schools in Vancouver.
One of the school students told CBC News that the class took a vote on whether or not they wanted to watch the video.
The anonymous vote saw all 30 in the class vote in favour. They then spent the rest of the class period discussing it.
In a statement, Marguerite-Bourgeoys School Board (CSMB) said the incident happened on the afternoon of 4 June and that the teacher was suspended the same day.
The teacher expressed regret, CSMB said, and was scheduled to appear before a labour board to discuss possible disciplinary action on Wednesday.