Montreal Grand Prix protests lead to arrests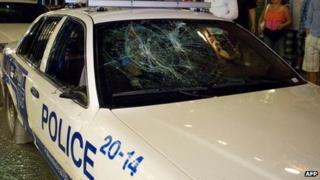 Police in the Canadian city of Montreal have arrested 28 people suspected of trying to disrupt the F1 Canadian Grand Prix.
Hundreds had taken to the streets as part of protests against rising university tuition fees, as well as the city's hosting of Sunday's race.
There were clashes on Saturday night between student protesters and riot police, who fired tear gas.
Students in Quebec have been protesting for months against rising tuition fees.
Hundreds of demonstrators marched through Montreal on Saturday, banging pots and pans.
Later in the evening, some protesters sprayed paint on a police car and smashed its windows, triggering clashes with riot police.
Some students have described Sunday's Grand Prix as an obscene display of capitalism.
The BBC's Lee Carter in Toronto says city authorities have been determined to protect the lucrative race with a huge police presence, and have blocked off an area in the city centre designated as a party zone for F1 fans.
Earlier this month talks between the Quebec government and student groups broke down, when officials rejected demands for a tuition-fee freeze.