US prosecutors named to lead investigation into leaks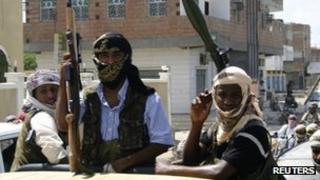 US Attorney General Eric Holder has appointed two prosecutors to lead an investigation into the suspected leaking of government secrets.
Recent news articles have included classified information on cyber attacks against Iran and the foiling of a bomb plot by al-Qaeda in Yemen.
Mr Holder said the leaks could compromise national security.
President Obama has rejected Republican allegations that he sanctioned the leaking to boost his image.
Prosecutors Ronald Machen and Rod Rosenstein will direct an investigation that has already been started by the FBI.
"The unauthorised disclosure of classified information can compromise the security of this country and all Americans," Mr Holder warned on Friday.
'Offensive' allegations
Some of the stories containing classified information - several of which appeared in the New York Times - have been explosive.
One, published last month, revealed that a British double agent infiltrated al-Qaeda in Yemen and helped to foil a bomb plot.
Details have also emerged of how Mr Obama personally approves every secret drone strike in Yemen and pushed for cyber attacks on Iran's nuclear facilities.
Republican critics have suggested that the White House orchestrated the leaks in order to paint Mr Obama as a decisive commander-in-chief ahead of November's presidential elections.
The president denied the allegations, telling reporters they were "offensive" and "wrong".
Senator Dianne Feinstein, the chair of the Senate Select Committee on Intelligence, welcomed an investigation and called on Congress to enact legislation that will tighten the laws on unauthorised information leaks.
A former US soldier, Private Bradley Manning, is awaiting trial in the US for leaking hundreds of thousands of classified documents to the Wikileaks site.