Wisconsin special election in dead heat as polls close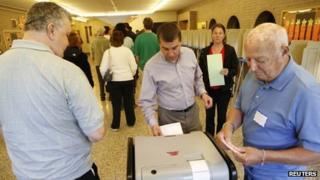 A rare recall election in the US state of Wisconsin that is being seen as a key test ahead of the general election is deadlocked, exit polls show.
Republican Governor Scott Walker faces Milwaukee Mayor Tom Barrett more than a year after he passed a law limiting workers' collective bargaining rights.
With more than 20% of the vote count in, Mr Walker had 61%, ahead of Mr Barrett with 39% of the vote.
Voter turnout on Tuesday was high, correspondents say.
Critics gathered nearly one million signatures to force the recall vote.
Mr Walker is only the third governor in US history to face a recall vote. His lieutenant governor, Rebecca Kleefisch, and three Republican state senators also faced recall votes on Tuesday.
'Lights out'
Roberta Komor of Wauwatosa told Reuters that she had voted for Mr Barrett when he ran in 2010, but switched her vote this time, saying unions "need to learn about shared sacrifice".
Andrew Karls, a Barrett supporter, said he did not expect the Milwaukee mayor to win, but believes enough of the recalled senators will lose, flipping control of the Wisconsin Senate to Democrats.
The fight in Wisconsin reflects the broader national conversation over budgets and the sluggish economic recovery. Supporters of Mr Walker say that what happens in Wisconsin could have a bearing on how the presidential campaign unfolds.
"One thing is really clear here: If Walker wins on Tuesday, which we are really confident he will, [Barack] Obama's going to have a much tougher road ahead in Wisconsin this fall," Republican National Committee Chairman Reince Preibus told reporters, ABC News reported .
"Certainly [if] Wisconsin goes red I think it's lights out for Barack Obama."
Wisconsin is seen as one of a handful of swing states that could be especially important in determining the outcome of the presidential election.
The state has voted Democratic in the last six presidential elections, and in 2008 Barack Obama carried Wisconsin with a 14% margin.
Mr Barrett told CNN on Tuesday: "There are some want to make it a national election."
"That's part of my gripe about this, I don't want Wisconsin to be the experimental dish for the right wing," he said, adding that the race should be about jobs and the future of state government.
Meanwhile, Mr Walker defended his economic record, saying "my opponent has no plans other than to attack us".
The race has also attracted the support of prominent Republicans, such as New Jersey Governor Chris Christie, Louisiana Governor Bobby Jindal and South Carolina Governor Nikki Haley, who have campaigned on Mr Walker's behalf.
Meanwhile, former Democratic President Bill Clinton gave a speech in Milwaukee on Friday to bolster Mr Barrett's campaign. Mr Obama, though, has not visited the state.
Instead, Mr Obama took to Twitter on Monday to support him: "It's Election Day in Wisconsin tomorrow, and I'm standing by Tom Barrett. He'd make an outstanding governor."
Mr Walker's record on job creation is also in the spotlight, after he promised in 2010 to create 250,000 new jobs over four years.
More than one year after taking office, analysts say Mr Walker is not on target to meet that goal. Monthly job figures suggest job-creation is about flat in Wisconsin, while a combination of data suggests about 33,000 new jobs were created in the state, the Associated Press reports.
Waves of protest
The recall race has attracted resources from national political groups, who have poured millions of dollars into the race. It is estimated that about $62m (£40.3m) have been spent by the candidates, as well as groups that support them.
Mr Walker's campaign has spent about $29m, far outspending Democratic candidate Mr Barrett.
Mr Walker came to power in January 2011, after a Republican surge in the 2010 mid-term election.
Soon after taking office he signed into law a bill to curtail public employees' ability to negotiate over their pensions and health benefits.
The bill divided opinion in Wisconsin, spurring waves of protests. After the passage of the law, Democrats and labour unions gathered more than 900,000 signatures - almost double the 540,000 needed - to bring about the special election.