Toronto Eaton Centre shooting suspect on murder charge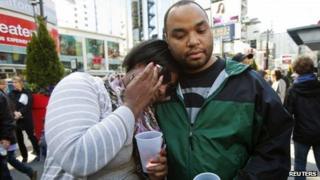 A man has been charged with murder after a weekend shooting at Toronto's main shopping centre left one person dead and six wounded.
Christopher Husbands, 23, turned himself in at 02:30 EST (06:30 GMT) on Monday.
At the time of the shooting, Mr Husbands was under house arrest on another charge, a Toronto police spokesman said.
He also faces six counts of attempted murder.
Two wounded in the attack are still in serious condition, including a 13-year-old boy visiting Toronto who was shot in the head.
Police believe the man killed in the attack, Ahmed Hassan, as well as another man who was seriously wounded, were targeted.
Hassan was pronounced dead at the scene. Detective Sgt Brian Borg told reporters on Sunday that he "may have had some gang affiliation".
During a news conference on Monday, however, Sgt Borg said officials did not believe the shooting was gang-related, "even though there are several persons who have now been identified in this case as being known gang members".
"There are personal aspects involved," he told reporters.
'A herd of people'
Over the weekend, Toronto police chief Bill Blair described the attack as a targeted shooting in which bystanders were also hit.
"A lot of innocent people were hurt and a lot of innocent people were put at risk," he said. "I believe every Torontonian is shocked and appalled by this crime."
Marcus Neves-Polonio, 19, who works in the shopping centre's food court, said he saw a man pull out a gun and start firing, while Erica Solmes, manager of a McDonald's outlet, said she heard about 15 shots before hundreds of shoppers started stampeding for the exits.
The shooter fled the Eaton Centre after Saturday's attack, but police announced the next day that they had security images of the suspect.
Accompanied by a lawyer, Mr Husbands turned himself in a police station early on Monday.
Gun ownership in Canada has been subject to licensing since the 1970s, and gun crime has dramatically declined over the years.
The last similar incident in Toronto was in 2005, when an exchange of gunfire between rival gangs in a street near to the Eaton Centre killed a teenage girl.