What do Mormons think of Romney's White House run?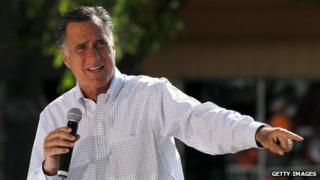 As Mitt Romney becomes the first Mormon to clinch a major party nomination for president, many of his co-religionists say they are proud to see one of their own so near to the White House. But others are wary, reports the BBC's Paul Adams.
On a hill at the foot of the Wasatch Mountains, a monument commemorates the arrival of Mormons, at the end of their epic trek from Illinois in the middle of the 19th Century.
Brigham Young stands atop a towering white obelisk, above the words "This Is The Place", a reference to the sick leader's words upon exiting Emigration Canyon and looking over the valley below, on 24 July 1847.
One hundred and sixty-five years later, the city Young founded sprawls down the hillside and into the surrounding desert, the shimmering, briny expanse of the Great Salt Lake glinting in the distance.
"Today, pioneer blood flows in our veins," reads an inscription below the obelisk. "Just as it did with those who walked west. It is the essence of our courage to face modern day mountains."
Carrying the banner
As Mitt Romney finally secures the Republican nomination - a quest which must already have required something of the fortitude of a pioneer - he is that much closer to the White House.
How do his fellow Mormons respond as he scales this modern day mountain?
With plenty of hope, and not a little apprehension.
"We all do look to Mitt Romney to carry the banner for us," says Steven Densley, a Salt Lake City lawyer.
"We don't want him to embarrass us. We want him to be a good example of what it is to be a Mormon."
For the country's seven million Mormons, heavily concentrated in the western US, this really matters.
Followers of the Church of Jesus Christ of Latter Day Saints, or LDS, know that to have a Mormon in the White House will probably entail a whole lot more scrutiny of their faith.
And Mormons have nothing to be afraid of, says Mr Densley.
"This is an opportunity for discourse and greater understanding," he says.
'World's last optimists'
But not everyone is convinced: 68% of Mormons say the American people do not see their religion as part of the mainstream of American society, and 46% said there is "a lot" of discrimination against Mormons.
"It is a moment that can be extremely polarising," says Nicole Goldberg, of Brigham Young University's Department of English.
The wildly popular Broadway hit, The Book of Mormon, she says, illustrates the schizophrenic popular view of Mormonism.
"In some ways, it's completely making fun of Mormons," she says. "But in other ways, it's saying they're the last optimists in the world."
With Mormons prominent in sport, business, popular culture as well as politics, commentators have been talking about a "Mormon moment" since last year.
There have been others moments: Mitt Romney's own father ran for the Republican nomination 44 years ago.
But the closer his son gets to the White House, the bigger this moment seems.
"He's just very much in a fishbowl," says writer and blogger Melissa Leilani Larson. "His religion is going to be scrutinised. His choice of tie is going to be scrutinised."
The scrutiny is difficult for a religion that is still relatively young and, for historical reasons, somewhat closed.
At Temple Square, in the centre of Salt Lake City, fresh-faced LDS "sisters" from around the world are on hand to guide visitors around the heart of the Mormon world.
But the temple itself is off-limits to non-Mormons, and LDS officials are coy about such things as church rituals, "temple garments", or the work of the Strengthening Church Members Committee.
Former Utah Governor Jon Huntsman, another Mormon who briefly sought the Republican nomination, says it is important to understand how the religion evolved.
"The core ethos was to escape persecution," he says.
"Their development model was based on a very insular, inward-looking civilization, one that feared the outside."
'Dreading it'
In the early days of Salt Lake City, Mr Huntsman points out, government troops set up camps outside the city "simply to keep their eye on the crazy Mormons".
Many Mormons are fiercely patriotic but proud of their traditions, and fear of outsiders and what outsiders think of them lingers.
"Some Mormons are dreading it," says a local journalist about the prospect of Mitt Romney winning the presidency.
"What are they going to say about us?"
Mitt Romney has, for the most part, kept his religion under wraps, and that is the way Mormons like it. This is not a community given, like Southern Baptists, to mixing politics and religion in public.
"Here in Utah, it's not kosher to use your religion overtly for any purpose," says Kirk Jowers, director of the Hinckley Institute of Politics at the University of Utah, and a friend of Mitt Romney.
"You don't hear politicians quoting the Bible or the Book of Mormon."
But for all the reticence to address faith directly, there is one historical parallel that resonates among Mormons, as the most famous adherent of this poorly understood religion aims for the highest office in the land.
"I'm thinking back to my Catholic friends when John Kennedy was elected," says Bob Bennett, former Republican senator from Utah.
"They said we have at last removed the stigma that says that no Catholic can ever be elected president of the United States. I think that same degree of satisfaction will be found among Mormons."