US ambassador Ryan Crocker to leave Afghanistan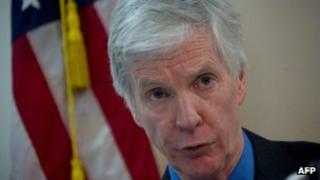 The US ambassador to Afghanistan is to step down this summer due to ill health, the state department has said, one day after Nato's Chicago summit reaffirmed plans to exit the country.
Ryan Crocker, 62, began his posting 10 months ago and will stay until July.
The 62-year-old veteran diplomat's time in Kabul overlapped with a diplomatic effort to reach a peace deal between the Taliban and the Afghan government.
Other senior US officials are also expected to step down soon.
The ambassador to Pakistan, Cameron Munter has announced he is leaving his post, while Gen John Allen, the most senior US military official in Afghanistan, is expected to leave his position towards the end of the year.
The BBC's Kim Ghattas says that it is not unusual for diplomats and officials to move on, especially during the last year of a presidential administration.
But the departure of several diplomats in key strategic areas could lead to some drifting in implementing policy while replacements are found, our correspondent adds.
'National commitment'
"Today, Ambassador Ryan Crocker confirmed to the Afghan government, US Mission Afghanistan, and the Isaf community that he intends to depart his post for health reasons in mid-summer," state department spokeswoman Victoria Nuland said on Tuesday.
She did not give further details on the state of Mr Crocker's health, but added: "He wanted to make it clear that this should not in any way be seen as a lessening of his personal commitment and our national commitment, obviously, to Afghanistan."
Mr Crocker has not been forced from office and remains highly-respected, correspondents say.
He will be replaced temporarily by Deputy Ambassador James Cunningham, but Ms Nuland did not say who would succeed him full-time in the post.
Mr Crocker's departure comes as the US and Nato prepare to begin winding down operations in Afghanistan to meet a 2014 withdrawal timetable, and as civilian programmes there continue to face security and logistical challenges.
The ambassador is due to leave after donor conferences in Tokyo and Kabul, Ms Nuland said.
Mr Crocker came out of retirement 10 months ago to work in Kabul, at the request of the President Barack Obama.
He has served as US ambassador six times - in Pakistan, Lebanon, Syria, Kuwait and Iraq, as well as Afghanistan.
The BBC's Bilal Sarwary in Kabul says those close to President Karzai credit Mr Crocker with helping to repair a damaged relationship, avoiding leaks and relying on back-door diplomacy. Mr Crocker is seen as having played a key role in securing the recently signed Strategic Partnership Agreement between the two nations, our correspondent says.