Nato chief optimistic Pakistan will reopen Afghan route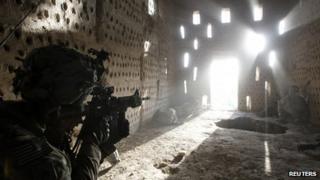 Nato's secretary general has said at a summit in Chicago that he is optimistic Pakistan will reopen a key supply route to Afghanistan.
Anders Fogh Rasmussen said he expected such a move "in the very near future".
The routes were closed after a US drone strike killed 24 Pakistani troops last year.
The summit of leaders from more than 50 nations confirmed its timetable for handing over security to Afghan forces and a full combat pullout by 2014.
'Committed'
The nations represented at the summit include heads of state and government from the 28 Nato countries, along with Afghan President Hamid Karzai and Pakistani President Asif Ali Zardari.
Nato Secretary General Anders Fogh Rasmussen denied that Mr Zardari had been invited to the summit to seal a deal on reopening the supply routes, saying: "We did not expect an agreement on Pakistan transit routes to be reached at this summit."
Mr Rasmussen said the closure had so far not had a major impact on Nato operations but would constitute a logistical challenge when the draw-down of troops began.
He added: "We would like to see the reopening of the routes as soon as possible... the ones through Pakistan are of great importance and I would expect a reopening of the transit routes in the very near future."
Mr Cameron said the situation was "frustrating" and that although he was confident the supply routes would be reopened, it was "not going to happen today".
Mr Zardari was quoted as saying that his government was in favour of reaching a deal with Nato on the supply routes.
Mr Rasmussen said his talks with Mr Zardari had left him encouraged that Pakistan was "committed to playing its part in creating a stable, democratic Afghanistan based on rule of law and good governance".
The supply route was closed in November after the US drone attack.
In return for reopening the routes, Pakistan has called for:
A public apology for the killings
A review of US policy on drone attacks inside Pakistan
A large increase of the current transit charge of $250 (£158) per vehicle
Correspondents say US President Barack Obama is unhappy about the fee, given that the US is already giving Pakistan large amounts of aid.
US officials say no bilateral meeting is being planned between Mr Zardari and Mr Obama.
Mr Rasmussen confirmed plans to hand over full combat command to Afghan forces by mid-2013 and that Nato-led forces would complete their combat role by the end of 2014.
He also touched on the question of the funding of Afghan security forces post-2014, denying that the summit was intended to be a pledging conference.
Mr Rasmussen said he was pleased a number of countries had made new pledges and denied there was any shortfall in funds.
He said: "We are on the right track to reaching the goal of around $4bn a year for financing of Afghan security forces - it's a positive story."
'Important role'
In remarks ahead of the Afghan meeting, Mr Obama said the Nato mission was "truly international".
He said: "The region and the world have a profound interest in an Afghanistan that is stable, secure and not a source of attacks on other nations."
Mr Obama said important progress had been made.
He said: "We have broken the Taliban's momentum. Afghans have grown stronger and the transition is well under way."
He added: "As Afghans stand up, they will not stand alone."
More than 10 years after the US toppled the Taliban regime, violence is continuing unabated in Afghanistan. According to UN figures, the number of deaths reached a record 3,031 in 2011 - the great majority caused by militants.