Anti-gay backlash for Obama in South?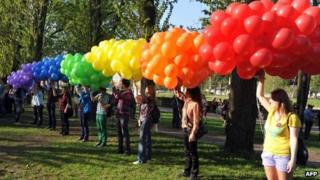 Steve Gill's conservative radio show begins with an electronic sizzle and a siren before segueing into the declaration of "a nit-wit free zone", followed by President Barack Obama's words supporting gay marriage.
A deep voice intones cynically: "Defending family values and the pursuit of happiness. What a concept!"
More than a week after President Obama made his announcement it is still the burning matter of the moment on the show.
Steve Gill thinks it was a political calculation that has backfired, a desperate president short of money trying to appeal to potential financial backers in Hollywood. But he says it's offended and united the South.
"Folks on both sides of the political aisle, Democrats and Republicans, black and white, Hispanic voters as well, are rejecting this sort of cultural imposition from the White House," he says.
"We're here in the Buckle of the Bible Belt in Nashville, Tennessee, and the Bible says it's wrong and people here are going to go with the Bible, not Barack Obama."
But, I ask him, will it have any impact on the election? I assume most of his listeners wouldn't vote for the president anyway.
"I think those who were not exactly motivated by Mitt Romney - had concerns about his Mormon faith - are now ready to go to the mat to vote against Barack Obama.
"Four years ago, 17 million Christian Evangelicals did not vote. They sat it out and there are lots of efforts to mobilise them, to get them to vote. Obama won by 7 million votes.
"Christian Evangelicals could have made the difference. He has now done what Mitt Romney could not do - he's mobilised and motivated them to vote against him and I think he'll pay a price in November."
'Fighting back'
If Christian conservatives feel the South is under siege, gay activists feel similarly beleaguered.
It is wrong to see the South as monolithic or unchanging. I have been surprised at how many little pockets of liberalism there are - in college towns or just areas of cities.
But Chris Sanders of the Tennessee Equality Project looks a little weary when I meet him for a coffee. He says he was given a lift by the president's declaration, but such aspirations seem a long way from the reality in this state.
He says their concern is battling bullying in schools, discrimination at work and proposed state laws like the "don't say gay" bill or one outlawing a private university from including sexuality in its anti-discrimination legislation.
"It is different," Mr Sanders continues. "There are people fighting back, to be sure, but the fact that they have to fight back so much is very telling in terms of the culture. I think a lot of people look at issues of sexuality and gender through the prism of their religious views."
"Tennessee is one of four states with more than 50% of the population identifying as Evangelical Protestant and surveys constantly show that group is about the most likely to oppose equal protection."
He says their most important allies are black state legislators who do not have to be persuaded of the merits of anti-discrimination laws.
But the views of the black churches do present President Obama with a problem.
Pastor Bruce Maxwell has run the Lake Providence Missionary Baptist Church for 30 years. From small beginnings it is now a large, imposing building, set in green parkland, with a congregation nearly 6,000 strong.
He tells me he was shocked by what the president said and thinks he gave in to political pressure to be politically correct, adding "most nations that have embraced this idea in history before, they have crumbled, or declined".
On his desk, among the souvenirs and religious texts, there is a picture of President Obama set in crystal. I ask him if it will cost the president his vote, or that of members of his flock.
"I think people will set aside the issue and vote for the man," he says.
I press him if it is a fundamental point. Not as much as Mr Romney's Mormon faith he adds.