Canadian anger at UN food report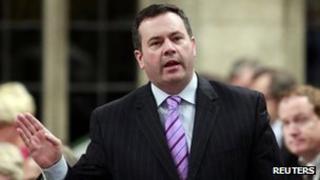 Canadian officials have hit back against a UN report that says the country's most vulnerable residents are going hungry.
Olivier De Schutter, the UN right-to-food envoy, has urged the government to do more to prevent malnutrition.
But Canada's immigration minister said the UN was wasting its resources, while another minister said Mr De Schutter was being "patronising".
The UN envoy has not retreated from his recommendations.
"What I've seen in Canada is a system that presents barriers for the poor to access nutritious diets and that tolerates increased inequalities between rich and poor, and aboriginal [and] non-aboriginal peoples," Mr De Schutter said on Wednesday.
The envoy said he was most concerned about residents on social assistance, and indigenous Canadians. One in 10 families with young children could not meet their food needs, he said.
"Here I have to say my concerns are extremely severe, and I don't see why I should mince my words," he said.
'Completely ridiculous'
Opposition leaders said they supported the envoy's recommendations for a national food strategy, as well as increased support for indigenous communities.
"Hunger and malnutrition are unacceptable anywhere, but especially in a country as wealthy as Canada," NDP MP Jean Crowder told the Toronto Star .
Conservative officials have argued that provinces should develop individual strategies to deal with issues of poverty.
Health Minister Leona Aglukkaq criticised Mr De Schutter for not travelling to the north of the country, calling the envoy "a bit patronising".
"He's ill-informed in that he doesn't understand that Inuit continue to live off the land today," said Ms Aglukkaq, also the Nunavut MP. "I go home and we have seal meat, we have polar bear meat, we have fish. This is our way of life."
Immigration Minister Jason Kenney called the report "completely ridiculous".
"It would be our hope that the contributions we make to the United Nations are used to help starving people in developing countries, not to give lectures to wealthy and developed countries like Canada," he told reporters on Wednesday.
Mr De Schutter spent 11 days touring Canadian cities and reserves, speaking with indigenous representatives and senior officials in government. He held eight civil society meetings across the country.
No federal ministers met with the envoy, with the exception of Ms Aglukkaq on Wednesday.