Robert F Kennedy Jr estranged wife Mary 'hung herself'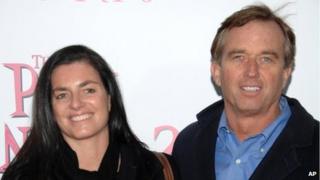 Robert F Kennedy Jr's estranged wife died of asphyxiation caused by hanging, medical officials in New York state have confirmed.
Mary Kennedy was found in her home in Bedford on Wednesday afternoon.
In a statement, the family of the 52-year-old said her "radiant and creative spirit" would be sorely missed.
Mr Kennedy, a lawyer and radio host, is the nephew of President John F Kennedy and son of Senator Robert F Kennedy, both assassinated in the 1960s.
A spokeswoman for the Westchester County Medical Examiner's Office said a post-mortem examination had revealed the cause of death.
No toxicology test results would be available for several months, she said.
Mary Kennedy was reportedly found in a barn behind the main home on the Kennedys' property in Bedford, north of New York City.
She left a note, The New York Times reported .
'Always kind'
Mr Kennedy's marriage to the former Mary Richardson in 1994, in a ceremony aboard a boat on the Hudson river, was his second.
The couple had four children over the 16 years of their marriage before he filed for divorce in 2010.
Mary Kennedy, an architect, had brushes with the law over drug and alcohol abuse, and was arrested twice for driving under the influence at about the time they separated.
"We deeply regret the death of our beloved sister Mary, whose radiant and creative spirit will be sorely missed by those who loved her," the family said in a statement issued by lawyer Kerry Lawrence, who had represented Mary Kennedy in a drink-driving case.
"Our heart goes out to her children who she loved without reservation."
A neighbour, Leslie Lampert, told the Associated Press news agency that Kennedy was "community oriented" and "a lovely individual".
"She was always kind in our presence."