Obama campaign and Democrats raise $43.6m in April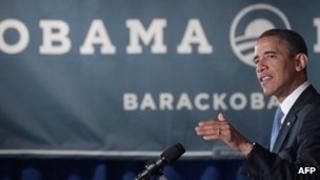 US President Barack Obama and the Democratic Party raised $43.6m (£27.4m) in total in April, his campaign says.
The figure, down from a March total of $53m, excludes major fundraisers from early May, one of which raised $15m.
Making the announcement, Obama campaign manager Jim Messina said large sums were being spent by special interest groups against the president.
Mr Obama will battle presumptive Republican nominee Mitt Romney in November for the White House.
The Romney campaign has until midnight on Sunday to file its fundraising report for April with the US Federal Election Commission.
Super PAC battle
At the end of March, the Democratic Party reported about $124m of cash reserves, while Republicans had about $43m in the bank.
Correspondents say the Obama campaign could see a further burst of donations after his recent endorsement of same-sex marriage.
Although Mr Romney's direct campaign funding has lagged behind the Obama campaign, Republican super political action committees (super PACs) are spending millions of dollars backing his candidacy.
In a sign of the gathering super PAC offensive, one group, Crossroads GPS, backed by Karl Rove, former adviser to President George W Bush, said it would spend $25m on anti-Obama ads.
Its first video release used Mr Obama's words against him , highlighting what the group said were a string of broken promises over his years in office.
About $57m has been spent on negative advertising against the president since October, Mr Messina said in the Obama campaign video.
Meanwhile, a super PAC supporting the president, Priorities USA, has struggled to match that level of funding, raising just $10m by the end of March.