Mitt Romney apologises after 'gay bully' school report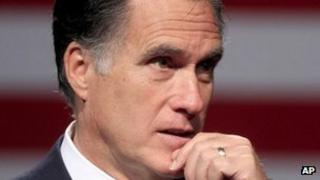 Presumptive US Republican presidential nominee Mitt Romney has apologised for school "pranks" after a report he bullied a classmate thought to be gay.
The Washington Post reported that in 1965 Mr Romney held down a younger student and cut off his hair.
Mr Romney said that he did not remember the incident, but apologised for "hijinks and pranks" that "may have gone too far".
A campaign spokeswoman called the report "exaggerated and off-base".
The Post interviewed five former classmates of Mr Romney about his time as a student at the Cranbrook School outside of Detroit, Michigan.
The classmates said Mr Romney objected to a younger student's bleached blond, longer hair.
According to the report the young man, John Lauber, was "perpetually teased for his nonconformity and presumed homosexuality".
"I don't remember that incident," Mr Romney told Fox News during a radio interview.
"I certainly don't believe that I thought the fellow was homosexual. That was the furthest thing from our minds back in the 1960s, so that was not the case."
Mr Lauber died in 2004, according to the Post.
In a statement to the New York Times, his family said they were "aggrieved that John would be used to further a political agenda".
Obama the school bully?
At the behest of the Romney campaign, several of the former Massachusetts governor's ex-classmates made positive statements about their time at the school with him.
One of them, Richard Moon, called Mr Romney a "thoughtful guy with a great sense of humour who cared about his classmates".
Mr Moon added: "He would never go out and do anything mean spirited. Clownish, yes. Never mean."
But one of the original sources of the Washington Post story, Phillip Maxwell, told CNN the incident was serious.
"I'm a lawyer," Mr Maxwell said. "I know what an assault is."
Conservative bloggers a passage in President Obama's memoir Dreams From My Father, in which he recounts an incident as a middle-school student when he shoved a classmate.
Mr Obama wrote that he had pushed her after classmates began jeering that he was her boyfriend.
Gay rights have become a national issue in recent days, with Mr Obama confirming on Wednesday that he personally supports the idea of same-sex marriage.
After Mr Obama's statement, Mitt Romney quickly moved to state his opposition to same-sex marriage and civil unions.