US Raytheon Co missile interceptor test 'a success'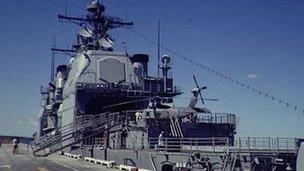 US forces have destroyed a target missile in their first successful test of a new Raytheon Co interceptor.
The Standard Missile-3 interceptor has been designed to play a central role in an anti-missile shield which is being built in Central Europe.
The test missile was launched from Hawaii, and the interceptor was fired from the USS Lake Erie.
The US Missile Defense Agency issued a statement saying: "Initial indications are that all components performed as designed."
It explained that the interceptor has a two-colour infrared seeker to improve sensitivity for longer-range targets and high-speed processing capabilities.
Two more tests are scheduled to take place later this year.
The question of an anti-missile shield in Central Europe has caused tension with Russia, which fears the interceptors will be a threat to its security.
Related Internet Links
The BBC is not responsible for the content of external sites.