Michele Bachmann gives up Swiss passport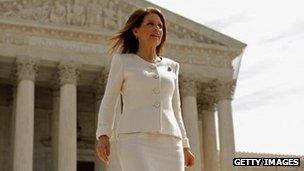 Minnesota congresswoman and former US presidential candidate Michele Bachmann has withdrawn her Swiss citizenship.
The move comes two days after it was first reported that Mrs Bachmann, 55, acquired citizenship with her family.
Mrs Bachmann said she had decided to give up her new Swiss passport to prove she is a "proud American citizen".
The three-term Republican was eligible for dual citizenship through her husband, who is of Swiss descent, a spokeswoman said.
"I took this action because I want to make it perfectly clear: I was born in America and I am a proud American citizen," Mrs Bachmann said.
"I am, and always have been, 100% committed to our United States constitution and the United States of America."
In Switzerland taking out healthcare insurance is mandatory, an approach that Mrs Bachmann has strongly opposed.
Mrs Bachmann had been criticised for taking on a Swiss passport, which she applied for when some of her children wanted to become dual citizens.
Mrs Bachmann, who herself has Norwegian ancestry, would have been eligible for elected office in Switzerland.
She had been registered in the canton of Thurgau in north-east Switzerland, but told Swiss TV she enjoyed visiting all different parts of the country.
"It's tough to find a place not to like in Switzerland," she said.
The Minnesota congresswoman ran for the Republican presidential nomination, but dropped out early in 2012 when she came sixth in the Iowa caucuses.
As a presidential candidate she was the outspoken favourite of the Tea Party movement. Her blend of evangelical Christian social conservatism and fierce anti-tax rhetoric propelled her to the top tier of the Republican primary race in the summer of 2011.
She is now campaigning for another term in Congress representing Minnesota.