Indiana Senator Lugar loses Republican primary fight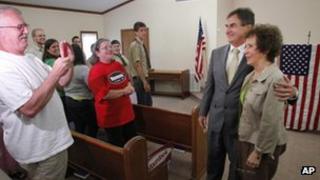 A Tea Party-backed challenger has ousted a 35-year veteran of the US Senate in a Republican primary in his home state of Indiana.
Richard Lugar, 80, who has held his seat since 1976, was defeated by a margin of more than 20 points by state treasurer Richard Mourdock.
Correspondents say Mr Lugar's loss could increase Senate partisanship.
The upset is viewed as a sign that the anti-Washington, small government Tea Party movement is alive and well.
Mr Lugar, a six-term senator, had previously come under fire for not keeping his primary residence in Indiana.
Long-serving Utah Republican Orrin Hatch faces a similar threat in June.
Insurmountable differences?
In a statement on the Indiana senator's "retirement", President Barack Obama said he "deeply appreciated" Mr Lugar's three decades of service and praised him as someone "who was often willing to reach across the aisle and get things done".
Mr Lugar said in his concession speech: "We are experiencing deep political divisions in our society right now, and these divisions have stalemated progress in critical areas.
"But these divisions are not insurmountable and I believe that people of good will, regardless of party, can work together for the benefit of our country."
Mr Lugar added that he would spend his remaining time in office working to pass an effective farm bill and focus on national security initiatives.
Later, in a 1,500-word statement distributed to reporters , Mr Lugar warned against reflexive partisanship from his opponent and in Congress.
"If Mr Mourdock is elected, I want him to be a good senator," Mr Lugar wrote. "But that will require him to revise his stated goal of bringing more partisanship to Washington.
"He and I share many positions, but his embrace of an unrelenting partisan mindset is irreconcilable with my philosophy of governance and my experience of what brings results for Hoosiers in the Senate."
Mr Mourdock began his victory speech with a round of applause for Mr Lugar, saying the long-serving senator was not his enemy but simply his opponent.
Mr Mourdock said his victory on Tuesday sent two messages: that Republicans in Indiana "want to see the Republicans inside the United States Senate taking a more conservative track", and that conservatives around America could achieve the "impossible".
Mr Mourdock goes on to face Democrat Joe Donnolly, currently serving as a representative in Congress, in November's election.
Indiana was one of three states, along with West Virginia and North Carolina, holding state and presidential primaries on Tuesday.
Republican presidential candidate Mitt Romney won all three primary contests, bringing him about 100 delegates closer to the 1,144 he needs to secure the nomination.
In North Carolina, primary elections were overshadowed by a vote on whether a same-sex marriage ban should be added to the state's constitution.
During the competitive race, Mr Mourdock's backers had sought to portray the sitting senator as increasingly liberal, highlighting what they said were links to President Obama.
The top-ranking Republican on the Senate Foreign Relations Committee, Mr Lugar was known for his work on nuclear arms reduction in the 1990s.