Quebec students to vote on university fees deal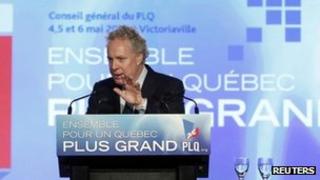 Students in Quebec are to vote on a tentative deal reached to end a 12-week strike over university fees increases.
The deal creates a council to find savings in university spending.
The deal does not revoke plans to increase tuition fees, which provoked the strike, but does freeze fees until the end of 2012.
Protests have continued in Montreal, as well as outside a weekend Liberal Party meeting, where three were seriously injured over the weekend.
Students will vote throughout the week, with each student association voting independently whether to accept the deal or continue the strike.
'Pretty negative'
Leaders of Quebec's student organisations have responded to the deal with mixed reactions.
"This is about the best we can do," Martine Desjardins, president of the Federation Etudiante Universitaire du Quebec (FEUQ), told the Edmonton Journal, adding that the deal represented the best chance of avoiding a cancellation of classes.
A leader of Classe, another student group, told CTV that protests were still ongoing. The group's spokesman, Gabriel Nadeau-Dubois, said that the potential of Classe rejecting the deal and beginning a new strike was "just an idea for now, but it would be the ultimate sacrifice".
Mr Nadeau-Dubois told the Journal that reaction to the deal was "pretty negative".
The deal Quebec's students will vote on does not remove a tuition rise of C$1,778 ($1,784; £1,000) now spread over seven years, instead of five.
Instead, a 19-strong council would be set up, with four representatives from student groups.
The council would review university spending this autumn and allow savings to go towards decreases in extra fees paid by university students.
A more permanent council would continue the process past 2013.
The deal was struck after weeks of strikes, protests and bitter rhetoric between student leaders and politicians.
Eighty five people were arrested in Montreal in late April as protests turned violent.
Quebec Premier Jean Charest rejected suggestions that the government had refused to negotiate with students before the situation had become dire, saying they had made three proposals during April.
"It takes two to tango and we can't sit down with people if they don't want to sit down with us," Mr Charest told reporters on Saturday.
Earlier, the government said it pulled out of talks because Classe had not halted its street protests, a condition for negotiations.