Osama Bin Laden documents released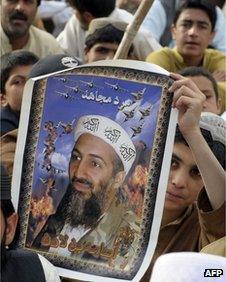 Newly released papers from Osama Bin Laden's hideout reveal a frustrated al-Qaeda leader struggling to control an unruly network, the US military says.
The papers show he was unhappy with affiliates' attacks on fellow Muslims, urging them to target the US instead.
Seventeen documents were released from a cache of more than 6,000.
The 175-page cache was posted online by the US Military Academy's Combating Terrorism Center - in the week marking a year since Bin Laden's death.
The papers date from September 2006 to April 2011 and include letters from other al-Qaeda leaders.
Some documents suggest that the group had a strained relationship with Iran.
Letters reveal al-Qaeda's exasperation with the way Tehran handled the release of detainees, including members of Bin Laden's family, expressing annoyance that the Iranians "do not wish to appear to be negotiating with us or responding to our pressures".
Meanwhile, there is no explicit reference to any institutional support from Pakistan, where the al-Qaeda leader lived for nine years.
The papers make mention of "trusted Pakistani brothers", but one reference suggests Bin Laden was wary of Pakistani intelligence.
He gave instructions to family members travelling to Pakistan to make sure they were not followed - in case the local intelligence chief trailed them to his location.
In some papers, Bin Laden and his inner circle emphasised that attacks on the US would ultimately weaken other enemies.
"Even though we have the chance to attack the British, we should not waste our effort to do so but concentrate on defeating America, which will lead to defeating the others," one letter said.
The documents also shed light on Bin Laden's concerns that Muslims were being alienated by the ideology of jihad.
In a letter from 2010, Bin Laden wrote of "starting a new phase to correct [the mistakes] we made".
"In doing so, we shall reclaim, God willing, the trust of a large segment of those who lost their trust in the jihadis," he wrote.
The al-Qaeda leader was advised by his California-born media adviser Adam Gadahn to distance his network from al-Qaeda in Iraq because of the latter's perceived failures
His lieutenants threatened to take measures against the leadership of the Pakistani Taliban for their "vile mistakes", including indiscriminate attacks on Muslims
Bin Laden wrote a strongly worded letter to al-Qaeda in the Arabian Peninsula urging them to focus on attacking the US, instead of the Yemeni government or security forces
Bin Laden saw little to gain from a pledge of allegiance to al-Qaeda from the Somali radical insurgent group al-Shabab, which he viewed as poorly organised
The letters reveal that Bin Laden was also sceptical of so-called lone wolf missions by homegrown jihadists.
He urged his associates "not to send a single brother on a suicide operation; they should send at least two".
He added that in cases when only one militant undertook an operation the "percentage of success was low due to psychological factors that affect the [designated] brother in such a situation".
Other papers suggest Bin Laden ordered his militants to look out for opportunities to assassinate President Obama or David Petraeus during any of their visits to Pakistan and Afghanistan. Mr Petraeus, now CIA director, formerly commanded international forces in Afghanistan.
But Bin Laden warned them not to bother targeting Vice-President Joe Biden because "Biden is totally unprepared for that post [of president], which will lead the US into a crisis."
In a letter from April 2011, the al-Qaeda leader discusses the Arab Spring, calling it a "formidable event" in the history of Muslims and expressing hope they can influence events through media outreach and "guidance".
The correspondence suggests that Bin Laden's inner circle closely monitored US news media.
Al-Qaeda media adviser Adam Gadahn described ABC News as "all right, actually it could be one of the best channels as far as we are concerned", but he said Fox News "falls into the abyss" and "lacks neutrality".
He also felt al-Qaeda had not been given credit for America's economic downturn, according to documents from 2010.
"All the political talk in America is about the economy, forgetting or ignoring the war and its role in weakening the economy," wrote Mr Gadahn.
Earlier this week, White House counter-terrorism chief John Brennan said Bin Laden's papers reinforced the view that the US was safer without him.
Related Internet Links
The BBC is not responsible for the content of external sites.