NFL star Junior Seau found dead in San Diego in apparent suicide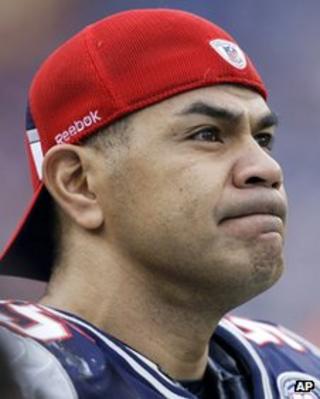 American football star Junior Seau has been found dead at his home in California in an apparent suicide.
Oceanside Police Chief Frank McCoy said the linebacker's girlfriend found him unconscious with a bullet wound to the chest on Wednesday.
Seau was a star player with the San Diego Chargers and spent 20 seasons in the National Football League (NFL).
In 2010 he drove his car off a cliff, hours after he had been arrested on suspicion of domestic violence.
Seau's mother, Luisa, wept uncontrollably as she spoke to reporters outside her son's house.
"I pray to God please take me, leave my son, but it's too late," she said.
Seau played for 12 years with his hometown team the Chargers, leading them to their only Super Bowl appearance after the 1994 season.
In a statement, the team said: "Everyone at the Chargers is in complete shock and disbelief right now. We ask everyone to stop what they're doing and send their prayers to Junior and his family."
After playing with the San Diego Chargers from 1990 to 2002, Seau went on to play with the Miami Dolphins and New England Patriots before retiring after the 2009 season.
He was inducted into the Chargers Hall of Fame in 2010.