US man Robert Dewey cleared of murder after 16 years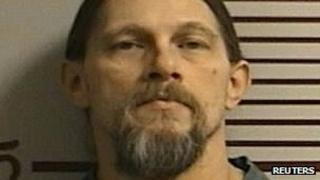 A US man who has spent more than 16 years in prison has been freed after new DNA evidence cleared his name.
Robert Dewey was sentenced to life for the rape and murder of a woman found strangled with a dog leash in Palisade, Colorado, in 1994.
But a court has now found him innocent, with the judge saying his exoneration marked a "historic day".
Prosecutors say improved DNA techniques have led them to a new suspect, who is currently serving life.
Following his release, Mr Dewey met his girlfriend - whom he formed a relationship with by correspondence while in prison - for the first time.
Fresh start
Outside court, he inhaled smoke from a burning sprig of sage, which he said was a native American custom, and said he had a lot to catch up on.
He said he intended to begin his new life by going for a meal with his mother, stepfather and girlfriend.
Robert "Rider" Dewey also said he wanted to ride his motorcycle again. "As long as it's in the wind, I'm happy," he said.
Mr Dewey was convicted of the rape and murder of 19-year-old Jacie Taylor, whose partially clothed body was found in her bathtub in June 1994.
He always maintained his innocence, saying as he was convicted that the real killer was still at large.
Advanced DNA tests cleared him and also led to an arrest warrant being issued for Douglas Thames, who is currently serving a life sentence for a rape and murder committed in 1989.
"Not perfect"
Freeing Mr Dewey, Mesa County District Judge Brian Flynn said: "Mr Dewey spent 6,219 days of his life incarcerated for a crime he did not do. This is a reminder to the entire system that it's not perfect."
Speaking after the hearing, Mr Dewey said he was not angry about his incarceration.
"What good would it do to me? I get to step outside there, touch a tree, get a dog and kiss my girl," he said.
But he said more cases should be reviewed, adding: "Who else is out there?"