Somali Mohammad Shibin guilty over Quest hijacking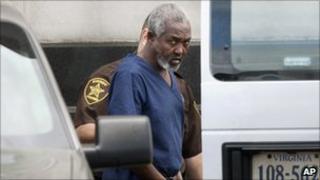 A US jury has convicted a Somali man of piracy for serving as a hostage negotiator during the hijacking of an American yacht.
Mohammad Saaili Shibin was found guilty of piracy, kidnapping and hostage-taking over the 2011 hijacking of the SV Quest, near Oman.
Prosecutors said he received at least $30,000 (£18,475) for negotiating ransom payments.
The incident saw all four Americans on board shot and killed.
Shibin was arrested by the FBI and military officials in Somalia in April 2011.
He now faces a mandatory life sentence, due to be handed down in August by the court in Norfolk, Virginia. His lawyer said he would appeal.
Two Somalis also charged in the case pleaded guilty last year and were sentenced to life imprisonment.
Several others involved in the hijacking have also received life terms, while some face murder charges and the possibility of the death penalty.
The couple who owned the boat, as well as two guests, were shot to death after a gang of 19 pirates took them hostage in the Indian Ocean.
The four - Jean and Scott Adam of Marina del Rey, California, and friends Bob Riggle and Phyllis Macay, of Seattle - were the first Americans to die in a spate of piracy attacks in the Gulf of Aden.
Two of the pirates were killed by US forces and another two were found dead on the pirates' vessel. It is unclear how they died.