US charges Taiwanese pair with 'China arms plot'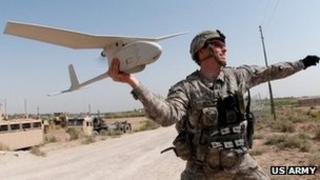 Two Taiwanese nationals have been charged with attempting to export US military technology to benefit the Chinese government.
US undercover agents had been investigating the couple for suspected drugs trafficking since February 2011.
But the pair allegedly went on to try to acquire and export arms technology, including a small drone plane.
US authorities say the pair claimed to have been working for an assistant to a high-ranking Chinese official.
Prosecutors lodged the amended criminal complaint on Wednesday in Newark, New Jersey, against Hui Sheng-shen, 45, and Huan Ling-chang, 41.
The defendants "purportedly acted on behalf of agents of the People's Republic of China and sought to acquire assets and information which, in their words, 'would hurt America'," the charge sheet claims.
Ms Huan's lawyer said her client maintained her innocence, adding: "We look forward to her vindication on all the charges".
Mr Hui's lawyer made no comment.
Crystal meth link
The complaint said Mr Hui had portrayed himself as a logistics expert while multilingual Ms Huan portrayed herself as a schoolteacher.
They were arrested in February, a year after the undercover investigation into them began.
The pair came to the US authorities' attention through a Hong Kong national allegedly involved in trading counterfeit goods - who is currently in custody in the Philippines awaiting extradition to the US.
Initially their focus appeared to be on trafficking crystal methamphetamine. They are charged with smuggling a 1kg "sample" of the drug into the US last August, and face further charges of conspiring to smuggle more.
But in September, the complaint sheet claims that the defendants "introduced a new topic of discussion: they asked whether the UCs [undercover agents] could obtain and pass along highly sensitive American military technology, including defence articles, for the benefit of individuals and organisations operating on behalf of the Chinese government".
'From Beijing'
They initially indicated their clients were interested in acquiring an E-2 Hawkeye reconnaissance aircraft but went on to express interest in a range of other technology, prosecutors say.
According to an agent, Mr Hui claimed he was acting on behalf of clients who "come from Beijing. They work for Beijing government... some kind of intelligence company for Chinese government - like CIA."
Days before their arrest, the pair allegedly met an undercover agent in New York.
Here they are said to have examined a small unmanned drone - a Raven RQ-11B - the agent had brought along as a sample and in which they had expressed interest.
They are also accused of photographing manuals for other drones - and were arrested before the images could be deleted.
If found guilty the two face 10 years in jail for each of the two drug counts and up to five years in jail for the arms charge.