Colombia rejects taint of US secret agent sex scandal
By Arturo Wallace
BBC Mundo, Bogota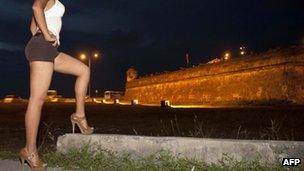 Colombians at first reacted to the news that US Secret Service agents were caught up in a sex scandal with plenty of jokes, a fair amount of schadenfreude, and even some music.
"The Secret Service agents didn't think about Obama. They only wanted to jump into la cama (bed)," goes one song.
It was written shortly after 11 members of the US president's advanced security detail were sent home accused of "improper conduct" in Cartagena with alleged escorts.
The "champeta", as the Afro-Caribbean rhythm typical of Cartagena is known, makes the most of the incident.
"Oh, Obama, they left you all alone, they ditched you to take care of Colombian girls," it goes.
Meanwhile, the stance taken by everybody, from the organisers of the summit that brought Barack Obama to Colombia earlier this month, to Cartagena's mayor, to the managers of the hotel where the agents allegedly slept with prostitutes, amounted to: "It is not our problem, it is the United States'."
But as the story has rumbled on, reactions in Colombia have hardened.
Prostitution is legal in Colombia, but the potentially negative impact of the scandal on the country's image abroad was shown by an advertisement from a low-budget US airline.
A poster promoting flights to Cartagena featured a man dressed in the dark suit and glasses associated with US secret agents and four scantily-clad girls, with the far from subtle slogan "More bang for your buck."
And in a reference to the quarrel over money between one of the agents and his escort, which is said to have detonated the scandal, the advertisement also said that "upfront payment" was required.
The Colombian authorities, however, did not appreciate the joke.
"It is a shameful publication and we demand that the airline withdraw it and publicly apologise to Cartagena and Colombia," said Tourism Minister Sergio Diaz.
Concerns over the country being perceived as a sex tourism paradise only increased after the Washington Post ran an article describing Cartagena, a Unesco World Heritage site , as "swimming in prostitutes".
"Prostitution in Colombia is legal and widely accepted, a slightly embarrassing but very real part of the booming tourist trade," said the Post.
This brought a swift response from the Colombian Association of Travel and Tourism Agencies (Anato).
"That's not Cartagena's reality. The streets are not packed with prostitutes. That's not the city I see, that's not the city we want," Rodrigo Maldonado, Anato's president, told the BBC.
"Tourists are drawn to Colombia because of its nature, its mountains and landscapes, its diversity, its architecture. To say otherwise is not to know the country," he said.
Foreign Minister Maria Angela Holguin also expressed regret at what she called the "stigmatisation" of Cartagena and Colombia.
"The fault lies with the US Secret Service. Prostitution exists everywhere. Wherever there's a man, there's prostitution, so don't come and tell us it's only Cartagena," she said.
Ms Holguin is, of course, right.
But that does not mean Colombia does not have a problem.
"Many Colombian women go into prostitution because of their economic circumstances, because they have children but not money, because they don't have other options," says Betty Pedraza, director of Espacios de Mujer, a local NGO that supports sex workers.
"It's a reflection of inequality, a reflection of the feminisation of poverty. And the fact that Colombian women are well-known for their beauty doesn't help," she said.
Ms Pedraza said she understood the wider concern that Colombia was being portrayed as a sexual paradise, after years trying to get rid of an image associated with sex, drugs and violence.
"But, at least for us, the main challenge is to make sure that sex workers are not denied their rights and to make sure they have the opportunity to pursue other options if that's what they want," she said.
"And the current debate is only stressing the obvious. Everybody knows there's a lot of prostitution, that there's sex tourism - and not only in Cartagena.
"But very little will happen after that."
Related Internet Links
The BBC is not responsible for the content of external sites.