Sex worker advocates call for NYC condom evidence ban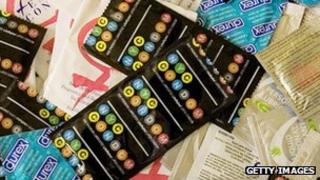 Advocates for sex workers in New York have called for legislation that would stop police officers confiscating condoms from prostitutes.
The Sex Workers Project says two surveys suggest that police frequently take away condoms from sex workers as evidence in prostitution cases.
The campaign group says the tactic has led to some prostitutes carrying fewer or no condoms and having unsafe sex.
The Sex Workers Project wants condoms to be inadmissible as evidence.
Under New York City's long-running health programme, an estimated 192m condoms have been handed out since 2007.
HIV infections
The sponsor of the bill, Democratic state senator Velmanette Montgomery, says the measure is not endorsing prostitution.
"It is simply related to the fact that over 100,000 people right now are infected with HIV and Aids in New York City," she said.
But a New York prosecutor told the Associated Press news agency that not allowing supporting evidence such as condoms could allow pimps and traffickers to walk free.
And Alexandra Waldhorn, a spokeswoman for the New York City health department, said that it opposed the bill.
A report from the Sex Workers Project found that carrying condoms was fairly standard among prostitutes, but there were several cases where police had taken condoms without arrest.
The report cited two recent surveys of sex workers, conducted by the city's health department and by an advocate network.
The city health department survey of 63 people, found that 36 said their condoms had been confiscated and 26 told the researchers they had been arrested.