US Senate blocks Obama's Buffett Rule proposal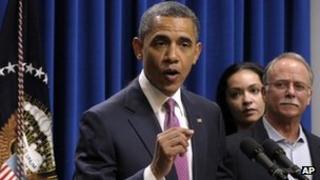 Senate Republicans have blocked the Buffett Rule, President Barack Obama's proposal to raise tax rates for top earners to at least 30%.
Senators largely voted on party lines and failed to win the 60 votes to move the bill forward for a full debate.
Republicans have resolutely opposed the measure, saying it is a political gimmick that will not create jobs.
The bill is named after tycoon Warren Buffett, who complained his secretary paid a higher rate of tax than he does.
Asking the wealthy to pay their "fair share" is viewed as a core theme of Mr Obama's re-election campaign.
The Democratic president has argued that raising taxes on Americans earning more than $1m (£628,772) per year would help reduce the deficit and make the US tax code fairer.
After the bill was blocked, Mr Obama said in a statement that Senate Republicans chose "once again to protect tax breaks for the wealthiest few Americans at the expense of the middle class".
Correspondents say Mr Obama will use this vote to attack Republicans in the upcoming November election.
While Democrats control the majority of the Senate, they were nine votes short of moving the debate forward, at a final tally of 51-45.
'Important message'
The measure has been attacked from both sides: Republicans oppose the introduction of new taxes, and some Democrats have said the bill does not go far enough.
According to the US Congress' Joint Committee on Taxation, the act would generate $47bn over the next decade.
"They shouldn't be allowed to hide behind tax loopholes that rig the system in their favour," Democratic Majority Leader Harry Reid said, adding that the gap between the wealthiest Americans and everyone else was widening.
But Republican Minority Leader Mitch McConnell said: "We've got a president who seems more interested in pitting people against each other than he is in actually doing what it takes to face these challenges head-on and to solve them in a bipartisan manner."
While the measure was not expected to become law, some proponents said before the defeat that they would continue to push for changes in taxation.
"I do think it is an important message for Washington to send to middle-class Americans," said Democratic Senator Sheldon Whitehouse, a sponsor of the bill. He pledged to continue pushing the issue even if the law does not succeed.
A Gallup poll published on Friday suggested that the measure has broad support among voters, with 60% of people saying they were in favour and 37% disapproving of the measure.
Correspondents say that Democratic strategists hope the issue will draw a contrast between Mr Obama and Mitt Romney, the Republican who is expected to challenge him for the White House in November's elections.
Mr Romney is a private equity tycoon who has said he pays about 15% in tax on an income of around $21m.
Last week President Obama released his tax returns, showing that he paid an effective tax rate of 20.5%, which the White House confirmed was slightly less than that paid by his secretary.
Americans are currently filing their tax returns for a deadline of Tuesday. Mr Romney has applied for more time to submit his tax returns - his campaign said he would release them at some point in the next six months.
On Thursday, the House of Representatives is scheduled to vote on a law that would give a one-year 20% tax break to businesses with fewer than 500 employees.
It is opposed by Democrats who say the measure would add to the deficit without any measures to offset the loss of $46bn in tax revenue.