Runners sit out Boston marathon amid warm weather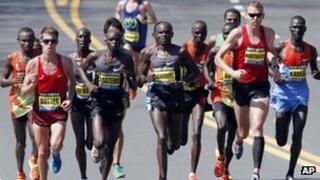 As many as 4,300 runners have dropped out of the 116th Boston marathon because of the heat, as temperatures approached 26C (80F).
Defending champion Geoffrey Mutai gave up 18 miles (29km) into the race suffering from cramps, a year after setting the world record in Boston.
Organisers of the 26.2-mile race said participants could run next year if they chose to sit this year out.
About 22,426 people crossed the start line, about 84% of those due to run.
Elite runners paced themselves to take the unexpectedly warm weather into account.
Wesley Korir of Kenya won the men's race in 2 hours 12 min 40 sec - almost 10 minutes slower than last year's winner.
Kenyan citizen Sharon Cherop won the women's race in 2 hours 31 min 50 sec, beating Jemima Jelagat Sumgong to the finish line by just two seconds.
The marathon course was lined with more than twice the usual amount of water, organisers said, as well as water sprays to keep the runners cool.
Volunteers and medical assistance were also on hand to help tired or dehydrated runners.
In 2002 a participant died while running the Boston marathon, and in 2007 the Chicago Marathon was halted after three-and-a-half hours when a runner died after struggling through temperatures of 31C.