Ann Romney criticism sparks political row over women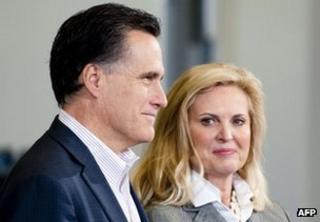 A Democratic strategist has apologised for saying Ann Romney, the wife of Republican candidate Mitt Romney, "never worked a day in her life".
Hilary Rosen made the remark during an interview on CNN, and later said Republicans were trying to use it to draw attention from Mr Romney's record.
But Obama campaign manager Jim Messina called on Ms Rosen to apologise.
Mrs Romney, 62, raised five children and was diagnosed with multiple sclerosis in 1998.
"As a mom I know that raising children is the hardest job there is," Ms Rosen said in a statement . "As a pundit, I know my words on CNN last night were poorly chosen."
"I apologise to Ann Romney and anyone else who was offended."
'Faux anger'
In response to Ms Rosen's initial remarks on Wednesday, Mrs Romney set up her own Twitter account.
"I made a choice to stay home and raise five boys," her first tweet read . "Believe me, it was hard work."
Then First Lady Michelle Obama has entered the fray, tweeting on Thursday : "Every mother works hard, and every woman deserves to be respected."
The spat comes as the Obama and Romney campaigns vie for women's votes ahead of November's presidential election.
A recent poll found that among women voters, President Barack Obama led Mr Romney 54-36%.
During Wednesday's CNN appearance, Ms Rosen argued that Mr Romney was using his wife as a surrogate on women and the economy, and that Mrs Romney had not faced having to raise children and work.
Ms Rosen, who is mother to twins with her former partner Elizabeth Birch, accused critics of scoring political points off her comment.
"They're attacking me. That's fine, but it does not erase [Mr Romney's] woeful record," she said on CNN on Thursday.
"Spare me the faux anger," Ms Rosen wrote in a longer response on Huffington Post, saying she has "nothing against Ann Romney".
"She seems like a nice lady who has raised nice boys, struggled with illness, and handles its long-term effects with grace and dignity."
In an interview with Fox News, Mrs Romney took exception to the characterisation of her husband as being out of touch with women and said she was hearing similar themes from women on the campaign trail.
"I don't care if they are stay-at-home moms, or they are working mothers, or grandmothers. Guess what they are all talking about?" Mrs Romney said.
"They are talking about jobs, and they are talking about the legacy of debt that we are leaving our children."