Canada emissions figures put 2020 target in doubt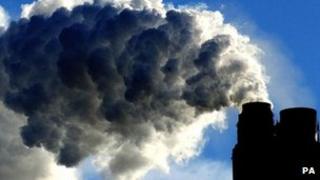 Canadian greenhouse gas emissions may not be dropping fast enough to hit self-imposed 2020 targets, government figures show.
Emissions rose by 17.5% between 1990 and 2010, peaking in 2007, with a slight rise in 2009-2010.
Rising oil production in Alberta will make it difficult to meet targets in the coming years, some critics say.
In December, Canada pulled out of the 1997 Kyoto Protocol after saying it could not meet the agreed targets.
Instead, Ottawa agreed to limit its emissions to 607 megatons by 2020. According to the National Inventory Report , emissions in 2010 stood at 692 megatons.
'Balance is working'
The country's Conservative government praised the data.
Ministers pointed to the small rise of just 0.25% in 2009-2010, noting that the Canadian economy grew by 3.2% in the same period.
"While our continued economic recovery remains our government's top priority, today's news demonstrates that our work to balance the need for a cleaner and healthier environment while protecting jobs and growth is working," Environment Minister Peter Kent said.
The report also said developments in technology and efficiency weakened the correlation between economic growth and rising emissions.
Fossil fuel industries reduced their emissions between 2005 and 2010, the report showed.
However, a 17% drop in gas production was being partially offset by a 48% rise in production from oil sands.
PJ Partington, a climate policy analyst at the Pembina Institute think tank, told Reuters news agency: "We are still well off course for meeting our emissions target, and without a national plan we're likely to see Canada's emissions continue to grow."
Oil production from Alberta's oil-rich tar sands is expected to reach about four million barrels per day by 2021.