Trayvon Martin: George Zimmerman 'to be charged'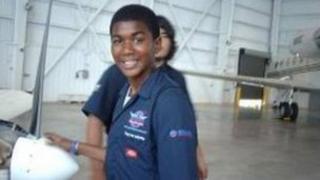 A Florida prosecutor is preparing to announce murder charges against a neighbourhood watchman who shot an unarmed black teenager, officials say.
George Zimmerman will be charged with second degree murder and has been taken into custody, an official told the Associated Press news agency.
Angela Corey is to announce charges at an event in Jacksonville, Florida.
George Zimmerman, 28, claimed self-defence and was not arrested over the February killing of Trayvon Martin.
Ms Corey's office had indicated on Tuesday that she would make an announcement on the case within 72 hours.
Ms Corey is widely regarded as one of Florida's most aggressive prosecutors.
Earlier this week she decided not to seek a grand jury review of the case, which means the decision to bring charges against Mr Zimmerman would be hers alone.
Ms Corey, who is based in Jacksonville, took over the case on 22 March after Seminole County state prosecutor Norman Wolfinger stepped aside after coming under intense scrutiny.
'Kindling box'
Mr Zimmerman has said he shot the 17-year-old in self-defence on 26 February during a confrontation at a gated community in Sanford, Florida, on the outskirts of Orlando.
Florida's controversial "stand your ground" law grants individuals leeway to use deadly force if they feel seriously under threat.
On Wednesday, US Attorney General Eric Holder said that the justice department would take action if it finds evidence that a civil rights crime was committed.
The Department of Justice launched an investigation into Mr Martin's death three weeks ago.
Since then the case has remained headline news in the US. Thousands have rallied in Florida and elsewhere demanding justice for Trayvon Martin, while George Zimmerman has remained out of sight, with friends and family making his case on TV.
On Tuesday Mr Zimmerman's lawyers said they were withdrawing as his legal counsel since he was not returning their phone calls and appeared to be acting independently.
Lawyers Hal Uhrig and Craig Sonner said Mr Zimmerman had tried to contact the special prosecutor without consulting them first and had launched a website that they were unaware of until they began receiving queries about it.
"He's gone on his own. I'm not sure what he's doing or who he's talking to," Mr Sonner told reporters.
They added that they had concerns about Mr Zimmerman's emotional state and that he "may not be in complete control" of the situation.
Martin's death has sparked a nationwide debate about racial profiling and prompted protests around the US demanding Mr Zimmerman's arrest.
Earlier this week Sanford Mayor Jeff Triplett said the Orlando suburb was like a "kindling box" amid community tensions over the case.
Trayvon Martin's family and supporters have said Mr Zimmerman killed him in cold blood. They allege he suspected the teenager was a criminal based on his race and the fact he was wearing a hooded sweatshirt.
The neighbourhood watchman's supporters say he only opened fire after the teenager attacked him, broke his nose and banged his head against the pavement.