US elections: All eyes on Romney after Santorum quits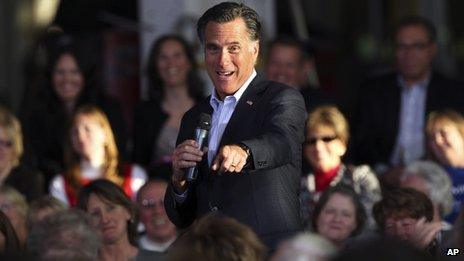 With Rick Santorum announcing the end to his presidential bid, the field is effectively cleared for frontrunner Mitt Romney. Commentators in the US have been looking at what this means for the battle for the top seat.
The bowing out of Mr Santorum is a chance for Mr Romney to move on and repair wounds suffered in the primaries, and also limits further harm, says Dan Balz in the Washington Post .
"His departure spares Romney from a potentially costly and ugly primary campaign in Santorum's home state as well as the possibility of embarrassing defeats in other primaries," he says.
Seema Mehta, from the LA Times , agrees, saying Mr Santorum's exit "effectively ended a bruising intraparty clash that many feared was harming Republicans' ability to take on President Barack Obama in the fall."
Observers say that even before Mr Santorum bowed out, Mr Romney was broadening his campaign to focus more on the message he is looking to convey in November's polls; now, they say, he can put all his energies into this task.
This means looking at fundraising and election infrastructure, as well as a change in priority of campaign states, the Wall Street Journal notes .
"The schedule going forward will likely be a mix of fundraising and campaigning in states that will also be important battlegrounds in the fall. States like Pennsylvania, North Carolina and New Mexico have yet to hold their primaries and are also expected to be competitive in the fall.
"Still, after planning to blitz Mr Santorum in the Keystone State, Mr Romney's campaign is toning down its Pennsylvania strategy and rolling back a multi-million dollar advertising buy there."
"With the challenge from the right largely removed - there is still Newt [Gingrich] - he should be able to tack back to the center."
Mr Romney could also do worse than narrow the gender gap, he adds, "which Santorum, with his out-of-the-mainstream views on contraception and abortion, helped widen into a chasm".
But, some warn that the move towards the mainstream risks alienating altogether the social and religious conservatives which Mr Santorum and other former contenders had won the support of.
"The GOP field has lost something very important with Santorum's departure - a passionate conservative who speaks from the heart, talking not only about his own life, but the lives of people across America who face the same struggles.
"The GOP is now left with Romney, a man at odds with his party's base, but more important, a likely nominee at arm's length from his party's heart and soul."