Miss Universe to allow transgender women in pageants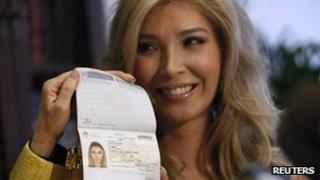 Miss Universe says it will allow transgender women to compete in its pageants starting in 2013, a week after a current contestant was reinstated.
Twenty-three-year-old Jenna Talackova, a Vancouver resident who was born male, will be able to compete in the Miss Universe Canada pageant this year.
The organisation previously barred her under the rule that contestants be "naturally-born" female.
Miss Universe said it was still working on the language of the rule change.
The policy revision follows consultations with the Gay and Lesbian Alliance Against Defamation (Glaad), that organisation and Miss Universe said in a joint statement .
Miss Universe president Paula Shugart said she "wants to give credit where credit is due".
"The decision to include transgender women in our beauty competitions is a result of our ongoing discussions with Glaad and not Jenna's legal representation, which if anything, delayed the process," Ms Shugart said.
Miss Universe Canada reversed its decision last week as Ms Talackova, who underwent a sex change four years ago, prepared to call a news conference.
"I have never asked for any special consideration," Ms Talackova said last week. "I only wanted to compete."
Donald Trump, who runs the Miss Universe contest, has wished her the best of luck.