Miami Marlins manager suspended over Castro comments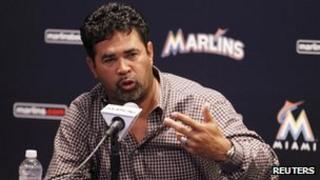 The manager of the Miami Marlins baseball team has been suspended for five games after saying he "loves" former Cuban leader Fidel Castro.
Ozzie Guillen's comments in an interview with Time provoked outrage among Miami's large Cuban exile community.
The Venezuelan coach told the magazine he respected Mr Castro for having stayed in power for so long.
He has apologised, but several Miami officials called for him to be sacked.
The Marlins opened a new ballpark in Miami's Little Havana neighbourhood just last week.
The team said in a statement that it acknowledged the seriousness of Guillen's comments.
'Very bumpy ride'
"The pain and suffering caused by Fidel Castro cannot be minimised especially in a community filled with victims of the dictatorship," the Marlins said.
The coach told Time: "I love Fidel Castro. You know why? A lot of people have wanted to kill Fidel Castro for the last 60 years but that [expletive] is still here."
Guillen gave a press conference at the Marlins' stadium on Tuesday in which he spoke at length in both Spanish and English as he apologised for his comments.
"I was saying I cannot believe somebody who hurt so many people over the years is still alive," Guillen told the news conference.
He said he felt he had let down the community, and described his remarks as the biggest mistake so far in his life.
"I'm very sorry about the problem, what happened," he added. "I will do everything in my power to make it better... I know it's going to be a very bumpy ride."
Major League Baseball has said it supports the Marlins' decision to suspend the manager.
"Mr Guillen's remarks, which were offensive to an important part of the Miami community and others throughout the world, have no place in our game," Commissioner Bud Selig said in a statement .
Cuban-American baseball announcer Amaury Pi-Gonzalez explained to USA Today why Mr Guillen's comments were so unwelcome in Miami.
"It's like going to New York's Jewish district and saying, 'Hitler wasn't so bad. He managed to stay in power for a few years,'" he said. "Even a 9-year-old knows better than to say that in Miami."
Outspoken
Guillen, who formerly coached the Chicago White Sox, was appointed manager of the Marlins last year.
The 48-year-old's outspoken style has previously stirred controversy, and in the same Time interview he spoke of getting drunk after every game.
Jayson Stark, writing on ESPN.com , says that the Spanish-speaking coach was hired precisely for his ability to connect with the Marlins' multicultural fan base - but he may have irreparably damaged his ability to make that vital connection.