Convicted Israeli spy Jonathan Pollard in US hospital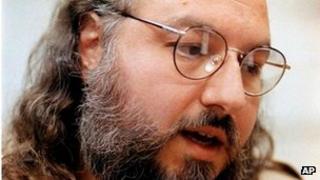 Convicted Israeli spy Jonathan Pollard is in hospital, the US Bureau of Prisons have said.
Officials did not say why the former civilian intelligence analyst was taken to a prison medical facility in Butner, North Carolina, on 4 April.
The news prompted Israeli leaders to make fresh calls, rejected by the White House on Monday, for his release.
The 57-year-old was jailed for life in 1987 for leaking reams of secret US documents to Israel.
Successive American presidents have refused appeals for Pollard's release.
He was arrested in 1985 while working for the US Navy. He is said to have copied and passed on to Israel enough classified documents to fill a walk-in closet.
He tried to seek refuge at the Israeli embassy in Washington DC, but was convicted and sentenced to life in prison two years later.
Israeli Prime Minister Benjamin Netanyahu urged his release, a call echoed by Israeli President Shimon Peres in a letter to US President Barack Obama.
Pollard's lawyer, Eliot Lauer, says he suffers from loss of balance, fainting, dizziness, nausea and severe pain in the area of his gall bladder and pancreas.
According to Mr Lauer, in the last year Pollard's medical problems have become more serious and he has undergone emergency medical procedures, including surgery, as a result.
Pollard was admitted to hospital because of the intense pain and doctors are running tests in an effort to diagnose the problem, Mr Lauer said.