Owner gives up California marijuana school after raid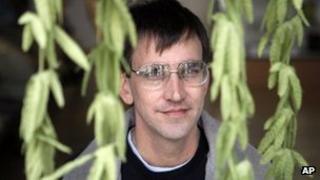 The founder of a US centre that offers courses on growing and dispensing marijuana says he will step aside from school days after a police raid.
Richard Lee, 49, who runs Oaksterdam University, said he was concerned about facing serious federal drug charges.
He has campaigned for the legalisation of marijuana, by supporting ballot measures and raising $1.5m (£945,000) to back a 2010 state legalisation plan.
Authorities have not explained why they raided the centre.
Monday's raid saw officers from federal tax and drug agencies confiscated marijuana, computers and files relating to Mr Lee's business.
Mr Lee, a paraplegic who uses a wheelchair, was not arrested.
"It was something we've always feared, but we've always known it's a part of the politics of this issue," Mr Lee told the Los Angeles Times.
Mr Lee has said that now he will only continue with his advocacy work and will stop running the education centre.
'No deal'
Mr Leetold the Los Angeles Timesthat even though he will step aside, the centre will continue to run.
"I've been doing this for a long time. Over 20 years... I kind of feel like I've done my time. It's time for others to take over."
The centre has run some classes since the raid.
Mr Lee said his decision to step aside was not part of a deal with the authorities.
Courses at Oaksterdam University include horticulture, business and the legal intricacies of running a marijuana dispensary. The school does not distribute the drug.
The use of marijuana for some medical purposes is allowed in California. Fifteen other states and Washington DC have passed similar laws.
The Obama administration has recently cracked down on medical marijuana dispensaries, though, leading some states to either delay or scale back their programmes.
Last month WeGrow, a shop that sells equipment to grow marijuana, opened its first outlet in Washington DC, just a few miles away from the White House.