Three Cups of Tea author must pay $1m to his charity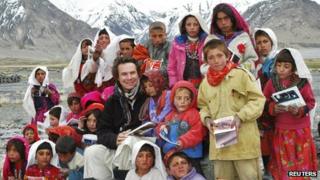 The author of Three Cups of Tea has agreed to repay $1m (£631,000) to his charity after an inquiry found he mis-spent its money.
Greg Mortenson will no longer be the executive director of the Central Asia Institute (CAI), but will still draw a salary from the organisation.
Officials investigated the charity last year after claims that parts of the book were fabricated.
No criminality was found butthe report recommendedmore oversight for the CAI.
His best-selling 2006 book describes how he was rescued and nursed to health in a remote Pakistani village after a failed climb in 1993 of the K2 mountain.
The 2009 Nobel nominee wrote that the villagers inspired him to build schools in the region, spawning his charity's mission.
Luxury accommodation
The book was hugely successful and donations poured in to the CAI, including $100,000 from President Barack Obama's $1.4m Nobel Peace Prize.
Buta report by CBS News' 60 Minutes programmelast year alleged that Mortenson had fabricated parts of his work and was benefitting financially from his charity.
The Montana-based organisation became the focus of a year-long investigation by the state attorney general.
His inquiry found Mortenson had spent $4m of the charity's money to buy copies of his books, gaining royalties without paying any of them to the CAI, as promised.
The organisation also spent more than $2m on Mortenson's charter flights to speaking engagements, even when the event host paid his travel fees.
Mortenson and his family also charged personal items to the charity amounting to $75,276 that included brand-name clothing, luxury accommodation and holidays, found the report.
He has repaid nearly half of the $1m he owes the CAI, and said he would repay the rest over three years as he has "insufficient financial resources" to do so at once, according to the investigation.
Montana Attorney General Steve Bullock said: "Mr Mortenson may not have intentionally deceived the board or his employees, but his disregard for and attitude about basic record-keeping and accounting for his activities essentially had the same effect."
Mortenson declined to comment because of a separate civil lawsuit challenging the content of his books that is still ongoing.
The settlement between Montana and the CAI also calls for a new board to run the charity.
Mortenson stepped down as executive director when he underwent heart surgery in June 2011. He gave up the post permanently later that year.
The CAI's active executive director Anne Beyersdorfer defended the author on Thursday.
She told the Associated Press: "He's the heart and soul of the organisation. He's the co-founder and I think we all think of him as our chief inspiration officer."