Former policemen in Katrina bridge shootings jailed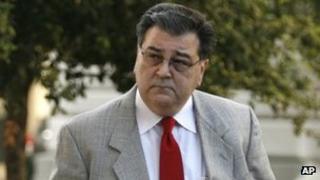 Five former New Orleans police officers who shot six unarmed civilians, two fatally, in the wake of Hurricane Katrina have been jailed.
The prison terms range from six to 65 years for the shootings on the Danziger Bridge in September 2005.
Four of the officers were found guilty of firearms offences and the fifth was jailed for helping the cover-up.
The officers planted a gun and fabricated witnesses and false reports to make the shootings appear justified.
Robert Faulcon, 48, received the longest sentence of 65 years; Kenneth Bowen, 38, and Robert Gisevius, 39, received 40 years each; and Anthony Villavaso, 35, was sentenced to 38 years in prison.
Retired Sgt Arthur Kaufman, 55, the officer who was assigned to investigate the shootings, received a six-year prison sentence for helping to co-ordinate the cover-up.
Packed courtroom
Hurricane Katrina battered New Orleans's poorly maintained levees on 29 August 2005, flooding most of the city and stranding thousands of people on rooftops.
In all, 1,833 people died, 80% of the city was flooded, and more than a million people were displaced.
The power, water and sewage systems were knocked out and people began looting shops and homes.
On 4 September 2005, Faulcon, Bowen, Gisevius and Villavaso were among a dozen officers who responded to a radio call that police were being fired upon near the bridge.
They opened fire with assault rifles and a shotgun at an unarmed family walking on the bridge and at a man fleeing the scene.
A New Orleans couple, their daughter, and their nephew, were wounded and a family friend, 17-year-old James Brissette, was killed.
Ronald Madison, 40, who had mental and physical disabilities, also died on the bridge. He was shot in the back with a shotgun as he ran away.
In reports filed by the officers or on their behalf, they claimed they had opened fire only after being threatened and that they had seen weapons in the victims' hands.
It took five years to establish what happened on the bridge.
Mr Madison's brother, Romell, told the BBC's World Today programme the prison sentences had helped the family come to terms with what happened.
"I would say 75% closure. There's always the thought of them getting off on appeal, you know... we will feel closure when they've exhausted all their appeal rights and the sentence stands," he said.
Kaufman is the only officer who was not already imprisoned when the sentences were handed down. He is due to report to prison on 23 May,the Times Picayune newspaper reports.
The courtroom was packed with relatives and friends of the victims and policemen.
The case was part of a wider effort from the Department of Justice to clean up the New Orleans Police Department.