French academic Descoings found dead in New York hotel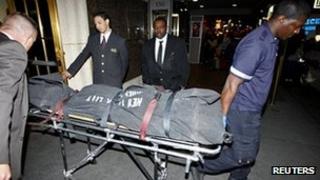 The head of one of France's most prestigious academic institutions has been found dead in a New York hotel room, police say.
The naked body of Richard Descoings, 53, director of the Paris Institute of Political Studies, was discovered at the Michelangelo hotel in Manhattan.
His laptop and mobile phone were found on a third-floor ledge.
A police spokesperson has said that as yet there is no evidence a crime has been committed.
Police investigators are awaiting a medical report to determine the likely cause of death.
Mr Descoings had been the director of the Sciences Po institute, one of France's elite "grandes ecoles", since 1996.
Colleagues raised the alarm on Tuesday morning when he failed to appear at a UN-sponsored conference of university heads he had travelled to New York to attend.
The police spokesman, Paul Browne, told the AFP news agency that there was "no sign of trauma".
He said the disorderly state of Mr Descoings' room at the time of the discovery was the result of attempts by medical staff to resuscitate him.
Deputy Commissioner Browne told the Associated Press that the mobile phone and laptop probably had been thrown out of the window and had landed on the lower ledge.
Richard Descoings was known for carrying out a programme of far-reaching reform at Sciences Po, which educates much of the French political, media and administrative elite.
He also improved access for students from less privileged backgrounds.
In a statement, French President Nicolas Sarkozy paid tribute to Mr Descoings' career, saying he had devoted his life to education.