US official quits over frivolous spending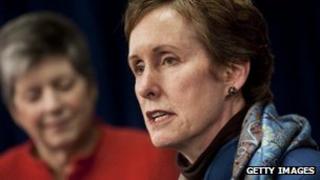 A senior US government official has resigned in the wake of a report concluding her agency improperly spent hundreds of thousands of dollars.
General Services Administration chief Martha Johnson quit after it emerged $820,000 (£511,000) was spent on a training conference near Las Vegas.
The inspector general's report found that planners had violated several regulations and flouted other rules.
The GSA oversees office space, supplies and transport for the US government.
Ms Johnson fired two deputies and suspended other career employees before tendering her own resignation to the White House on Monday, admitting a "significant mis-step".
'Clown and comedian'
Four GSA employees who organised the five-day conference for 300 staff in October 2010 have been placed on administrative leave.
The training session's costs included a $95-per-person dinner and reception, a separate $31,000 networking reception, including $7,000 in sushi, and a $3,200 session with a mind reader.
The Washington Post reportedthat the session had also included a clown and a comedian.
White House chief of staff Jack Lew said in a statement: "On his first day in office, President Obama made clear that the people who serve in his administration are keepers of the public trust and that public service is a privilege.
"He was outraged by the excessive spending, questionable dealings with contractors and disregard for taxpayer dollars."
The inspector general's report noted that "as the agency Congress has entrusted with developing the rules followed by other federal agencies for conferences, GSA has a special responsibility to set an example".
"That did not occur here," the report concluded.