Romney seeks Wisconsin, Maryland and DC primary wins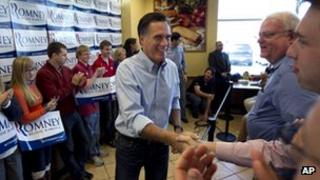 Republican presidential candidate Mitt Romney has cruised to victory in Maryland's primary, say exit polls.
He has also won the Republican primary in Washington DC, the NBC TV network projected. A CNN exit poll showed him comfortably leading in Wisconsin.
Opinion polls have suggested Mr Romney could be on course for a hat-trick.
The former Massachusetts governor is trying to knock main rival Rick Santorum out of the race so he can sew up his party's nomination.
Earlier on Tuesday President Obama criticised Mr Romney, in a sign he increasingly views him as his November election opponent.
Mr Santorum looked competitive only in Wisconsin, the biggest prize of the night.
He has focused his campaign in recent days on the agricultural and manufacturing state in the American heartland.
Although Mr Romney cannot secure the nomination outright this evening, US projections place him close to a tipping point where Mr Santorum would be unable to catch him in the race.
But the former Pennsylvania senator does not seem inclined to bow out.
Attempting to exploit suspicions among conservatives about Mr Romney's past as governor of liberal Massachusetts, Mr Santorum hasunveiled a TV advertisementthat shows his rival's face morphing into that of Mr Obama.
Mr Romney has all but ignored his Republican rivals to focus his attacks on Democratic President Obama, accusing him on Monday of "crushing dreams" with a big government approach.
But Mr Obama hit back on Tuesday with a stinging critique of the budget proposal recently laid out by Wisconsin Representative Paul Ryan, a high-profile Romney ally.
Addressing news executives in Washington DC, President Obama said the so-called Ryan budget would cut virtually all discretionary federal spending.
"It's a Trojan horse," President Obama said. "Disguised as deficit reduction plan, it's really an attempt to impose a radical vision on our country. It's nothing but thinly veiled social Darwinism."
Then he condemned Mr Romney for backing the budget proposal.
"He [Mr Romney] even called it marvellous, which is a word you don't often hear when it comes to describing a budget," President Obama said.
House budget committee chairman Mr Ryan, a rising star in the Republican Party, has been campaigning in recent days alongside Mr Romney.
Mr Ryan said President Obama had "chosen to distort the truth and divide Americans".
While Mr Romney is well-funded among his Republican rivals, he is already lagging behind Mr Obama ahead of an anticipated race for November's general election.
The Obama campaign had $87m (£54m) as of the end of February, compared with Mr Romney's $7.3m. The Obama campaign has more than 530 paid staff while Mr Romney's has about 100.
A total of 42 delegates are at stake in Wisconsin's winner-takes-all primary, with 37 up for grabs in the eastern state of Maryland and 16 in Washington DC - where Mr Santorum was not even on the ballot.
As of Monday, Mr Romney had 572 of the 1,144 delegates needed to clinch the Republican nomination at the party's convention in August, according to an Associated Press tally. Mr Santorum was far behind with 272 delegates, while Newt Gingrich had 135 and Ron Paul 51.
If Mr Romney fails to score a decisive blow against Mr Santorum on Tuesday, he will try to do so in the former senator's home state of Pennsylvania, which holds its primary on 24 April.