Obama hosts Canada and Mexico leaders for talks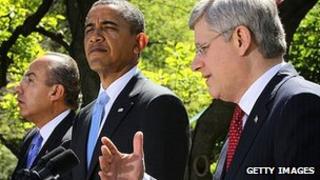 Tackling drugs and reducing trade barriers topped the agenda when President Barack Obama hosted talks with the leaders of Canada and Mexico.
Mr Obama said the three nations would "simplify and eliminate" more trading regulations to boost their economies.
He said 2011 saw US trade with its two neighbours top $1tn for the first time.
Mexican President Felipe Calderon called on the US to do more to stop US-made assault weapons fuelling his country's drugs war.
He said that the 2004 expiry of a US ban on such weapons had "coincided almost exactly with the beginning of the harshest period of violence we've ever seen".
At a joint press conference in Washington with Mr Obama and Canadian Prime Minister Stephen Harper, the US president said stopping gun-smuggling from the US to Mexico was "a difficult task, but it's one that we have taken very seriously and taken some unprecedented steps".
The meeting comes two weeks before a broader regional summit - the Summit of the Americas - in Cartagena, Colombia.
Monday's meeting was originally planned to take place in Hawaii in November, but had to be rescheduled after a senior Mexican official was killed in a helicopter crash.
Thorny issues
Mr Obama has said exports would be a key component of the US recovery.
Canada represents the biggest market for US exports, followed by Mexico. The US, though, is the biggest consumer of both Canadian and Mexican goods.
But trade between the US and Mexico has been overshadowed by violence from drug cartels struggling to control smuggling routes into the US market, and Mexico's complaints of US-bought weapons moving south.
"Criminal gangs, [and] narco-traffickers pose a threat to each of our nations, and each of our nations has a responsibility to meet that threat," Mr Obama said.
"We've sped up the delivery of equipment and assistance to support those efforts."
There was no mention at the post-summit news conference of the controversial Keystone XL oil pipeline from Canada's oil sands in Alberta through the US to the Gulf of Mexico.
The pipeline would transport crude oil from the tar sands of western Alberta to refineries on the Texas Gulf Coast.
The White House refused to approve the project, amid concerns that the route passed through the environmentally sensitive Sandhills region of the US state of Nebraska.
Mr Harper has previously said he was disappointed by the White House decision, and indicated that Canada would consider selling oil to China as an alternative, but did not refer to the project by name in his remarks.
But he would not be drawn on the issue on Monday.
He said they had had "useful discussions on continued co-operation on managing our borders, streamlining regulations securing global supply chains and advancing clean energy".
The leaders face differing political climates at home. Mexico is holding elections on 1 July, but Mr Calderon is not eligible for re-election; meanwhile, Mr Obama faces re-election in November.
Mr Harper, who has been in office since 2006, won a new term in office in May 2011.