US 1940 census release reveals post-depression country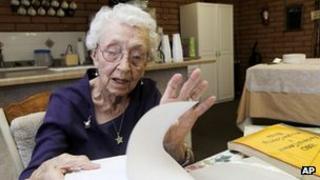 The US National Archive has released the data of individual Americans from the national census of 1940.
Thedetails of 132 million peopleoffer a comprehensive snapshot of the US as it emerged from the Great Depression and hovered on the cusp of war.
About 21 million of the people surveyed in the 1940 census are still alive, including celebrities such as Clint Eastwood and Morgan Freeman.
Records from past census counts have been released every decade since 1942.
The records, which are now publicly available online, reveal intimate details of people's lives including their income, employment and household information.
Some 300,000 people are expected to help crowdsource the data over the coming months, enabling visitors to the census website to conduct detailed searches, including by name.
Some privacy groups have campaigned against the data release, saying 72 years of confidentiality is not long enough.
The Census Bureau has said that birth dates and social security numbers have not been released with the rest of the data, to ease concerns over privacy.
But one woman, Verla Morris, who was counted in the 1940 census says she has no objections to the data release.
"I'd be happy to see it there," she told the Associated Press. "I don't think anything could surprise me, really."
Mrs Morris, who has worked on her family history since 1969 and has written six books about it, says census records were integral to her research.
She worked as a keypunch operator in Fairfield, Illinois, when the 1940 census was counted.
The cache of new information could help researchers paint an extremely detailed picture of American lives at a historic moment.
"We now have access to a street-level view of a country in the grips of a depression and on the brink of global war," National Archives chief David Ferriero said at a launch event in Washington.
Taken just before the US entered World War II, the 1940 census was taken on the eve of major social transformation in the country.
It is expected to shed some light on the country's climb out of the Great Depression, and the mass migration of black Americans away from the rural South.
Analysts say the records could also give an indication of how government policies, such as the New Deal and increased defence spending, influenced the lives of ordinary Americans.