Trayvon Martin's parents go to Capitol Hill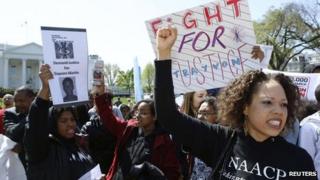 The parents of Trayvon Martin, a black teenager gunned down in Florida last month, have attended a congressional forum on racial profiling.
The Washington DC event, sponsored by Democratic lawmakers, came as police investigate leaks about the case.
The teenager's parents say someone is trying to tarnish his reputation.
The shooting has prompted protests around the country and demands for the arrest of the neighbourhood watch volunteer who shot the young man.
Tuesday's forum, backed by members of the House Judiciary Committee, also focused on hate crimes and Florida's "stand your ground" law, which enabled the shooter, George Zimmerman, to claim self-defence.
Mr Martin's parents, Tracy Martin and Sybrina Fulton, spoke briefly at the hearing, with Mr Martin confirming that he believed his son had been racially profiled.
"A lot of people can relate to our situation and it breaks their heart like it breaks our heart," Ms Fulton said.
"Trayvon is sadly missed and we will continue to fight for justice for him," Tracy Martin said.
"It is very important that we have independent eyes on this situation," said Corrine Brown, House representative for the area including Sanford, where Trayvon Martin was killed.
"I am hoping we take this as a teachable moment. I am looking forward to how the justice department handles their independent investigation."
Student activists staged a march in front of the White House and Department of Justice on Tuesday to call for the prosecution of Mr Zimmerman.
Sanford Police Departmentannounced it was launching an investigationto find the source of leaks about the teenager's brushes with authority.
A report in the Orlando Sentinel, attributed to law enforcement authorities, said Mr Zimmerman, 28, who has not been charged, opened fire after he was felled by Mr Martin with a single punch.
The newspaper said that according to Mr Zimmerman's police statement, his head was slammed on to the pavement by Mr Martin during the deadly confrontation on 26 February.
It emerged on Monday that the teenager had been suspended from school for marijuana possession shortly before his death.
Meanwhile,the Miami Herald reportedthat a school police investigator had found women's jewellery and a "burglary tool" in the teenager's bag.
Florida's Department of Juvenile Justice confirmed to the Associated Press on Monday that Mr Martin did not have a juvenile offender record.
Mr Martin's mother said on Monday: "They killed my son, and now they're trying to kill his reputation."
Civil rights leader Reverend Al Sharpton said he had warned the parents the authorities might attempt to destroy their son's reputation.
"They will try to make your son a junkie or thief [and] assault everything else before this is over," he said,the Orlando Sentinel reported.
Mr Martin was walking home from a local shop carrying a bag of sweets and a can of iced tea when he was approached by Mr Zimmerman.
The neighbourhood watchman had told a police dispatcher he thought Mr Martin, who was wearing a hooded sweatshirt, looked suspicious.