'Pink slime' beef production put on hold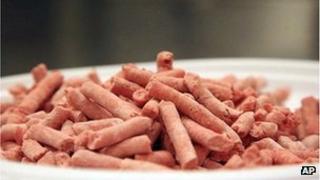 A US company that makes a beef product often referred to as "pink slime" is suspending production at three of four plants amid concern about the product.
Beef Products Inc said it hopes business will return once fears about the product die down.
Officially known as "lean, finely textured beef", so-called "pink slime" is made from left-over cuts and is up to 97% beef, a spokesman said.
US schools have been allowed to stop serving the food at mealtimes.
"We feel like when people can start to understand the truth and reality then our business will come back," Beef Products spokesman Chris Letch said.
Federal regulators say the beef ingredient meets food safety standards, but critics say the food is unappetising and possibly unsafe.
The beef is heated and spun in a centrifuge to separate the meat from the fat, before the final product is treated with a puff of ammonium hydroxide gas to kill any bacteria.
Earlier this month a social media campaign against the use of the food was followed by an announcement by the US agriculture department that schools would be allowed to choose alternative beef supplies.
Some school districts and retailers have already chosen to stop using it.
The three Beef Products Inc plants being wound down are located in Amarillo, Texas; Garden City, Kansas; and Waterloo, Iowa. Together they produce about 900,000lb (408,000kg) of the beef product per day, the company says.
About 200 employees at each location will receive their full salary and benefits for 60 days while production is suspended, the company said.