Sgt Robert Bales' wife says charges 'unbelievable'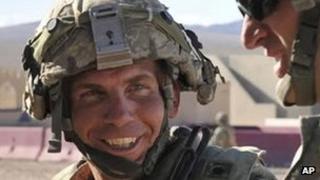 The wife of the US soldier accused of killing 17 civilians in Afghanistan, including nine children, has said the charges against him are "unbelievable".
Speaking on NBC's Today show, Karilyn Bales said Staff Sgt Robert Bales was like "a big kid" who loved children.
She said she had spoken to her husband by telephone twice since he had been detained, but did not ask him about the accusations he faces.
Charged on Friday, Sgt Bales could face the death penalty if convicted.
The 38-year-old father-of-two was serving his fourth tour of duty when he was detained.
His defence lawyer has said his client received body and brain injuries while previously serving in Iraq.
However, Mrs Bales told NBC in the interview aired on Monday that her husband had never shown any sign of post-traumatic stress disorder, and that she felt he was mentally fit when deployed.
Of her phone calls with Sgt Bales, who is being held at Fort Leavenworth in Kansas, she said: "We couldn't discuss those details."
"He seemed a bit confused as to where he was and why he was there," she told NBC.
She recalled the moment when she was told about his alleged involvement in the shootings.
"They held my hand and they just said that perhaps, you know, they thought that he had left the base, and gone out and perhaps killed the Afghan civilians, and that was really the only sentence, and I just started crying."
"It's heartbreaking. I can't imagine losing my children, so my heart definitely goes out to them for losing all of their children."
Mrs Bales said her husband was a great father who would not harm children.
"He loves children, he's like a big kid himself," she said. "I have no idea what happened, but he would not... he loves children, and he would not do that."