Florida polo mogul John Goodman guilty of manslaughter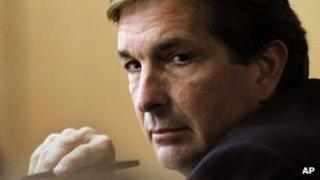 The owner of a polo club in the US state of Florida has been found guilty of manslaughter in a drink-driving case that drew national attention.
John Goodman crashed his Bentley into 23-year-old engineering graduate Scott Wilson's car, which rolled into a canal, killing him in February 2010.
Goodman, 48, took the unusual step of adopting his girlfriend in an alleged bid to shield him from damages claims.
He could face up to 30 years in prison when he is sentenced next month.
Goodman was convicted of driving under the influence of alcohol and vehicular homicide.
Fleeing the scene
His defence lawyer said Friday's verdict by a Palm Beach county court jury would be appealed.
Police said Goodman, the founder of the International Polo Club Palm Beach, drove through a stop sign before ramming Wilson's car.
He fled the scene and did not call 911 for almost an hour, according to the authorities.
His blood alcohol level was found to be more than twice the legal driving limit.
It emerged last year that Goodman had adopted his longtime girlfriend, Heather Ann Hutchins, entitling her to a share of his multimillion dollar trust, originally established for his two children.
Critics described the move as an attempt to protect part of his fortune in the event that he lost the manslaughter case; his legal team denied the allegation.
Lawyers acting on behalf of the children filed a lawsuit against their father, asking for Ms Hutchins' adoption to be thrown out.
Goodmanreportedly settled with the Wilson familyfor an unspecified amount earlier this month, shortly before the criminal trial began.