Robert Bales faces 17 counts of premeditated murder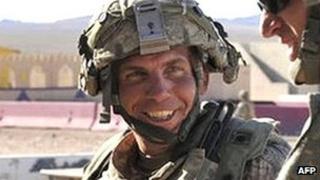 A US soldier suspected of killing civilians in Afghanistan has been charged with 17 counts of premeditated murder, the US Army says.
Staff Sgt Robert Bales, 38, is accused of killing nine Afghan children and eight adults in their homes in Kandahar province on 11 March.
Sgt Bales was also charged with six counts of attempted murder over attacks on a man, a woman and four children.
He could face the death penalty if convicted.
Col Gary Kolb, spokesman for US forces in Afghanistan, told the Associated Press news agency on Friday afternoon that the accused had been formally charged.
Taliban revenge threat
The charges were reportedly read to the soldier at Fort Leavenworth, Kansas.
He is being held in solitary confinement at the military jail after being flown last week from Afghanistan via Kuwait.
Nato and Afghan officials originally put the number of villagers killed in the massacre at 16 - nine children and seven adults. It is not yet clear why Sgt Bales is being charged with 17 murders.
The Taliban said on Friday that it had no faith in any trial of Sgt Bales.
"This was a planned activity and we will certainly take revenge on all American forces in Afghanistan and don't trust such trials," Taliban spokesman Zabihullah Mujahid told Reuters news agency by telephone.
Sgt Bales is the only known suspect in the killings - despite repeated Afghan assertions that more than one American was involved.
His lawyer, who has played down reports that his client was drunk on the night of the killings, said earlier this week Sgt Bales remembers "very little" of the incident.
John Henry Browne said there was "no forensic evidence" against him and "no confession".
The lawyer said Sgt Bales had received body and brain injuries while serving in Iraq and was unhappy about going for another tour of duty. He had already completed three tours in Iraq.
Mr Browne also said his client - whom he described as "a decorated soldier" with an exemplary record before the shooting - saw his friend's leg blown off the day before the killings.
The case has undermined US relations with Kabul and led to calls for Nato to speed up its planned withdrawal of troops from Afghanistan.
Sgt Bales' trial could take years, contrasting with Afghan demands for swift and decisive justice.
The Taliban called off peace talks in the wake of the deadly rampage.